Kangaroo attacks

Kangaroo attack
Kangaroos are usually peaceful animals and, as they are vegetarians, would not attack humans because animals normally only attack because they need food or out of self defense. Despite their peaceful appearance they are formidable fighters. Most problems probably originate from people feeding them so they come to expect food and get grumpy when they don't get it. Sometimes drought conditions bring them into towns where there is still water and green grass, like sometimes happens in Canberra. There are a few recorded kangaroo attacks, though we have been able too find only human death by roo attack which occurred in New South Wales in 1936 where a hunter was killed when he tried to rescue his two dogs from a fight with a kangaroo.
New research by PhD student Guy Ballard shows more than triple the expected number of kangaroo attacks between South Grafton and Coffs Harbour on the New South Wale North Coast.
Prompted by two kangaroo attacks on children in Grafton in 1999 and 2002, his research over the past two years has since been extended. He said they had thought there would be three to five attacks in the past two years but there's already been 15 to 20 reports.

Arthur's Creek, Victoria, November 2009
49 Year old Chris Rickard was walking around his property together with his dog, a blue heeler named Rocky.
They stumbled upon a sleeping kangaroo, who woke up and tried to get away, chased by the dog Rocky. The kangaroo them jumped in to the water and the dog followed. In a self defence move typical for kangaroos the kangaroo grabbed the dog with its front paws and held it under water to drown it. By now Chris had caught up with them and leapt into the water too to save his dog from the five foot roo, but the roo was not giving up the dog just like that and ripped in to Chris too. He received a big gash on his forehead and several deep gashes on his abdomen and chest while he was under water trying to pull his half drowned dog away from the roo and make his way back to shallower water, the roo only finally backed off a bit when Chris managed to elbow it in the throat. During an interview in the local hospital he said that he didn't think he'd ever be able to watch Skippy on TV again.
Burpengary, Queensland, March 2004

Burpengary "killer-kangaroos" on the lookout for more victims.
Photo by Jodie OBrien
Sylvia Aldren, 48 was picking roses outside in the garden outside her house in Burpengary on the outskirts of Brisbane when she noticed a few kangaroos nearby. One large one approached her and then pushed her to the ground and repeatedly kicked, bit and scratched her as family and friends watched in horror. She was taken to Caboolture hospital in her blood covered dress with injuries to her chest, thighs, arms and legs but released a few hours later with puncture marks, bruising and deep scratches all over her body. Other people in the area claim a mob of at least 50 kangaroos that live nearby have terrorized them for years and also on occasion attacked them. It is a safe bet that most medical professionals outside of Australia are not familiar with the damage a kangaroo attack can cause. A Chicago medical malpractice attorney or personal injury lawyer might want to dismiss such a case, but Sylvia Aldren's story is proof that kangaroo attacks can cause serious medical injuries.

Canberra July 2004
Killer kangaroos claimed the lives of two dogs and injured at least one person in Canberra during the first week of July 2004. Christine Canham was walking her four golden retrievers around Dunlop Ponds in Canberra's northern suburbs when her dog, Summer, had a run-in with a kangaroo who then held him under water and drowned him. Drought conditions have made the kangaroos change their usual behaviour and become active in daytime and fiercely defend water sources and feed patches.They have moved from nature reserves to Canberra's better-watered areas, such as sports fields and around ponds, where locals like to walk their dogs at dusk . Locals living in the national capital have been told how to avoid attacks by the mad marsupials. Don't approach a kangaroo when it is standing up and looking straight at you, especially if it growls or snorts. People have also been told to keep their dogs on a leash. In the same week a woman was badly scratched while she was walking with a small poodle and got too close to a large male kangaroo. Authorities can not do too much about it as culling them within city limits is out of the question because of ACT firearms laws. In the past former governor-general Bill Hayden and his successor William Deane became irritated by kangaroos overrunning their gardens at Yarralumla and asked unsuccesfully for them to be shot. Near the city at Googong Dam authorities did start culling kangaroos but animal liberationists protested and stopped them temporarily.
Canberra March 2009
One night in March 2009 all was quiet in Beat Ettlin's house in Canberra and all were peacefully asleep until around 2 AM he was woken by the sound of smashing glass splintering and in the dark saw something big jumping across his bed.
Awoken from his deep sleep he was still trying to figure out what the hell was happening here when his son yelled from the neighbouring room that there was a kangaroo in his room!!!
Dressed in his undies Beat rushed to the rescue as the kangaroo was quite capable of injuring his children, and he somehow managed to wrestle the mad marsupial out the door, although he suffered numerous scratches to his body and his undies got shredded too. The kangaroo had cut itself on broken glass as it flew in through the window and left a trail of blood through the house but once dumped outside it disappeared quickly into nearby bushland.
Cairns, Queensland, December 2009
Just because a wallaby is a bit smaller than a kangaroo does not mean that it can not do any damage,
A two year old girl was savagely attacked by a wallaby at White Rock on the south side of Cairns in December 2009.
Tamar Hutchins and her daughter Susan were feeding their horses when suddenly the wallaby emerged from the bush and attacked Susan. The wallaby had her head in its mouth and was slamming its back legs into her repeatedly, causing wounds to the left side of her body and face. If I had not seen it with my own eyes, I would not have believed it, her mother Tamar said later.
Charleville, Queensland, July 2011
94 Year old Phyllis Johnson was attacked and kicked several times by a kangaroo and taken to hospital for treatment for cuts and scratches.
Police who were called in had to use capsicum spray to fend off the roo, until it hopped away in to field.
On the request of Phyllis's son the kangaroo was euthanased Environment Dept. officers.
County Durham, U.K.
A police man was bitten on the knee by a wallaby that had become a celebrity with the nickname Skippy after it had been hopping around County Durham in north-east England for several weeks, leading to traffic chaos and spectacular local media reports. Police Sergeant Eddie Bell thought it was a Bennetts wallaby, native to Tasmania, who might be an escaped pet or there was a possibility it had ventured away from a mob living in the Pennines in Yorkshire. The shire has previously had wallabies hopping around, as much as fifty at one time but most of them died in a sever winter in 1963.
Echuca, Victoria, September 2013
Four eastern grey kangaroos entered a housing estate in Echuca and would you believe it, they jumped in to the swimming pool.
After the swim one of them smashed its way in to the house of Paul Giorgianni through the front window where it thoroughly trashed the lounge room and bed room.
Paul himself was not hurt in the mayhem but the kangaroo was bleeding and had to be put down.
Emerald Beach near Coffs Harbour, January 2010
A report emailed to us by Alan Jones:
I am an active 77 year old male living on a small property in the Emerald Beach area, north of Coffs Harbour NSW. Thirty years ago we used to see only an occasional kangaroo around. Over the last 5 years all that has changed. There are now scores of kangaroos to be seen at any time around and in our property. However, I have never ever been attacked or even threatened by a kangaroo. The normal thing was that at my approach to any, they would hop away. Yesterday (15/01/2010) was different.
It was a fine, warm day. About 10am I was walking down a hill to a small enclosed area. My path took me to about 7 metres from where a small group (3or 4) kangaroos were lying down. At my approach a young one promptly hopped away. Then two adults stood up. I expected them to hop away too. However, without warning one of them came straight for me, uttering a kind of hissing sound. It knocked me to the ground and I remember using my arms and legs as effectively as I could to keep it at bay. After a few seconds it moved away, but as I stood up it came at me again. I didn't have time to find a stone or stick to defend myself. I grabbed and twisted its left upper limb and it left the scene. I didn't wait around to see if it would come back.
My injuries were superficial abrasions to the right forearm, both legs and right buttock. My long sleeved shirt and trousers were badly ripped. Hopefully the kangaroo had a sore arm.
The cause of the attack was unlikely to have been anything to do with food. We have never fed the roos on our property. There is a plentiful coverage of juicy fresh grass around. I suspect the attack may have been to do with an aggressive male protecting his small harem..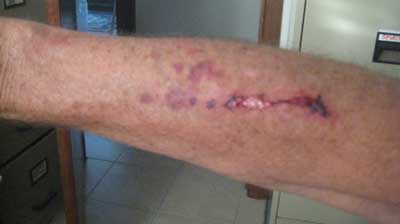 Grafton, New South Wales, October 1996

Click pic to enlarge to fully appreciate the size of the claws on this roo.
Photo by Lyn Rose
Steven Shorten, 13, was enjoying a game of golf at the Grafton District Golf Club. He hit a ball a bit off course and went looking for it but when he left the golfcourse and stepped into bushland he got attacked by a 1.5 metre high kangaroo that grabbed and repeatedly jumped on him, resulting in massive facial wounds and cuts to his abdomen, back and legs. His father Rodney Shorten sued the golf club and claimed A$750,000 for physical injuries and emotional damage as the kids at school now nick named his son Skippy after the legendary life saving TV kangaroo. Though first dismissed by a local court the father took the case to the Supreme Court in Canberra that ruled in his favour. An amount to be paid out is yet to be decided , the judge first wants to hear evidence from four other kangaroo attacks on golfers.
Monto, Queensland, June 2003
In June 2003 Doug Lawson of Monto, Queensland, claims he was chased into his house by a kangaroo that attacked him. His wife saw him running into the house with blood on his face, the roo then attacked him once more and knocked him down, Doug defended himself with a broom and his wife Pauline used a hose and they managed to convince the mad marsupial to give up the fight and leave the house, leaving a shaken, bruised and scratched couple behind. Doug reckons the kangaroo was not provoked but might have been after food.
Netherlands
A man was found unconscious next to his moped by police. When the man regained consciousness he told police that a kangaroo had unexpectedly crossed his path and he had collided with it and was knocked off his bike. He was subsequently taken to the police station for a blood alcohol test. The test turned out negative and not much later a report came in that a traveling circus nearby was missing a kangaroo, the man was released from custody with an apology.
Port Maquarie, November 2011
Two year old Zakkiah Galeas was playing on his family's three hectare property near Port Maquarie when a female eastern grey kangaroo attacked him.
His mother who was eight months pregnant came to his aid, although with little success, and finally his father managed to fight off the kangaroo.
Zakkiah was rushed to hospital with a bloody face, a puncture in his chest, a gash on his leg, and two large gouges across his face, and he required thirteen stitches.
Several neighbours claimed to have also been attacked recently.
Port Maquarie, June 2012
Kirrily McWilliams lives south of Port Macquariewas when she was confronted by a growling female eastern grey kangaroo in the backyard of her property. She got away unhurt but the next day the mad marsupial was back and it grabbed her dog, which was not a small one being a 65kg. mastiff.
Every time she called National Parks and Wildlife Services for help but all she got was replies to ignore the roo.
But a day later while she was walking down the driveway the kangaroo jumped towards her at high speed, there were no trees to hide behind nearby so Kirrilly just rolled into a ball on the ground in self defence, the roo pounced on her a few times which left her with scratches and a foot long gash in her back and some torn clothing.
Her husband was attacked later that day too but he was lucky to have a shovel in his hands to defend himself.
NPWS finally issued a permit to kill the roo a day later but by that time the animal had left the area and attacked another person.
Kangaroo attack movies
The other side;
But before you start thinking Australia is full of 'killer roos' read this story;
In September 2003 a real life version of the famous Skippy from TV saved the life of farmer Len Richards of Morwell, eastern Victoria by alerting his family that he was lying unconscious nearby. He had been checking a tree in a paddock about 300 metres from the house during stormy weather, when he was hit on the head by a falling branch and knocked unconscious. The RSPCA said the 10-year-old western grey, known as "Lulu", who had been the family's pet for years, should be nominated for a national bravery award and indeed a bit later she was awarded the National Animal Valor Award. Not only that, Lulu now has her own website www.luluthekangaroo.com.au where you can buy Lulu T-shirts, Lulu books, Lulu bumperstickers etc.
Do you know of, or have survived, a kangaroo attack? Then contact us!