Live in the UK? Use a local well known business and book your car through Ebookers:
If you are staying in Australia for a long time then it may be worth your while to buy a car and sell it again when you have made your way around the country. Check out notice boards at backpackers hostels and the local Saturday papers. In the bigger cities there are often designated backpacker car markets, organized by councils who got tired of backpackers hanging out on the streets taking up valuable car parking spaces in the city centre. Be sure to get up to date with government regulations first, don't buy a car that you later can not get registered. People may try to sell you a car that still needs to pass an inspection before it can be registered, and tell you that "it only needs a few little things that won't cost much". Tell them that if it is that easy why don't they do it themselves then, and you'll find that they won't.
Around Australia by tour-bus

Photo by Rob Lapaer of Rainforest Hideaway B&B, Cape Tribulation, N.Qld.
Halfway between Cairns and Darwin in the Gulf of Carpenteria
Instead of traveling from A to B on some boring coach or plane and then booking a tour again on arrival, why not combine them! There are many tours that will take you on one-way trips around Australia, stopping regularly to enjoy the sights, spend the nights camping in the bush under magnificent starry skies or outback pubs, make friends along the way and actually enjoy getting from A to B !

Adventure Tours is an Australian company that can take you across the country in a fun and adventurous way to show you the real Australia. Of course it is quicker to fly to Darwin or Alice Springs, but crossing the outback by road is the only way to fully appreciate its amazing vastness.
Below we have a selection of one way adventure tours for you, or click here for more options to other destinations....

A rare event, rain in the desert and a bogged Groovy Grape bus between William Creek and Coober Pedy.
Groovy Grape does a great seven day run from Adelaide to Darwin.
Cairns to Sydney in 14 days - Departs from Cairns and stops at Airlie Beach, , Fraser Island, Gold Coast, Great Barrier Reef, Byron Bay, Sunshine Coast, North Johnstone River, Whitsundays, Mackay, Townsville, Tin Can bay, Rainbow Beach and Magnetic Island and ends up in Sydney. More info and reservations...
18 Day Melbourne to Darwin Safari - Departs from Melbourne and travels via Ayers Rock (Uluru), Alice Springs, Adelaide, Great Ocean Road, Flinders Ranges, Kata Tjuta (The Olgas), Otway Ranges, Coober Pedy, Kings Canyon, Wilpena Pound, Grampians, Bells Beach, Kakadu National Park, Katherine Gorge, Litchfield National Park, Clare Valley, Mary River Wetlands, Ubirr, Jim Jim Falls, Tennent Creek, Halls Gap, Port Augusta, Lorne, Apollo Bay, Yourambulla Caves and Quorn, MacKenzie Falls, Warren Gorge and arrives in Darwin. More info and reservations....
7 Day Darwin to Alice Springs via Uluru - Departs from Darwin and travels via Ayers Rock (Uluru), , Kata Tjuta (The Olgas), Kings Canyon, Kakadu National Park, Katherine Gorge, Litchfield National Park, Mary River Wetlands, Jim Jim Falls and Tennent Creek and arrives in Alice Springs. More info and reservations....
7 Day Cairns to Darwin - This 7 day adventure through the outback and the Gulf of Carpenteria includes all the highlights suuch as Atherton Tablelands, Undarra, Karumba, Normanton, Lawn Hill National Park, Hells Gate, Borroloola, Southern Lost City, Roper River, We of the Never Never,- Mataranka Springs and Katherine.
More info and reservations....
8 Day Cairns to Cape York Adventure - Cape York is one of the last remaining wilderness areas in the world and this awesome adventure will show you all the highlights of it in an eight day journey, such as the Daintree National Park, Cape Tribulation, Bloomfield Track, Cooktown, Cedar Bay, Lions Den Pub, Iron Range National Park, Punsand Bay and Thursday Island. Travel one way by road and the other way by plane along the spectacular Queensland coast line.
More info and reservations....
11 Day Broome to Darwin - Departs from Broome and travels via Kununurra, Bungle Bungles, Fitzroy Crossing, Gibb River Road, Halls Creek, El Questro Station, Edith Falls and Katherine Gorge. More info and reservations....
9 Day Broome to Perth - Departs from Broome and travels south along the Great Northern Highway through vast desert landscapes to Perth via Shark Bay, Exmouth, Karijini, Monkey Mia, Pinnacles Desert, Kalbarri, Coral Bay, Denham, Geraldton, Cervantes, Ningaloo Reef and Carnarvon. More info and reservations....

The Nullarbor
9 Day Adelaide to Perth - Crossing the Nullarbor is a mind blowing experience. The vast distance of 2800 km between the two cities of Adelaide and Perth makes for one of the world's greatest road journeys. In some places the road runs very close to the edge of the continent and to stand there looking at the Great Australian Bight is an awesome "end of the world" feeling, there are caves to explore, outback pubs and historic ruins and remains of the days when whaling was an industry along here.
You can drive it yourself and burn a lot of petrol or book on a 9 day camping adventure, more info and reservations...
10 Day Adelaide to Perth - The same tour as above but in the other direction. More info and reservations....
6 Day Sydney to Melbourne - Take a walk on the wild side with this 6 day adventure trip along the coastal stretch between Sydney and Melbourne to encounter glorious scenery and wildlife, picturesque countryside and heritage villages.
It's an unspoiled area of pristine beaches and headlands, coastal lakes and estuaries, small settlements and fishing villages, historic reminders of gold mining and whaling days, shipwrecks and maritime museums, mountains that seem ready to fall into the sea, and Aboriginal cultural sites that attest to strong continuing traditions.
It was the first part of the Australian mainland sighted and charted by Captain Cook in 1769-1770 as he turned north towards Botany Bay. Much of it has been included in a series of marine reserves and national parks and has some of the best opportunities in Australia for sighting a variety of marine life, birds and animals.
The area is rich in natural and cultural heritage, and is inhabited by laid-back, friendly locals who are only too keen to share their good fortune with visitors.
Highlights of your journey through this landscape include:
Grand Pacific Drive and Sea Cliff Bridge - Jervis Bay (world's whitest sand) – whale and dolphin watch cruise – national parks of the South Coast – Montague Island cruise (seal colony and whale watching) – historic Eden – Twofold Bay whaling heritage – Eden Killer Whale Museum – lighthouse tours – Bataluk Culture Trail – mouth of the Snowy River – Krowathunkooloong Aboriginal Cultural Museum – headland walks in Victoria's eastern coastal parks – Gippsland Lakes cruise – Ninety Mile Beach – Phillip Island Penguin Parade. More info and reservations....
6 Day Melbourne to Sydney - The same tour as above but in the other direction. More info and reservations....
3 Day Tour Melbourne to Adelaide via Great Ocean Road & Grampians - A great way to get from Melbourne to Adelaide and see all the highlghts along the way, such as Great Ocean Road, Otways and the Grampians. More info and reservations....
10 Day Gibb River Road Loop from Broome - Experience incredible scenery, Aboriginal Art, and Kimberley Wildlife. For those with limited time this tour will sample the unique Kimberley. Explore the Kimberley's ancient mountain ranges, gorges and rivers as you travel the heart of the Kimberley. Highlights include; Windjana Gorge, El Questro, Tunnel Creek, Bells Gorge & Geike Gorge. More info and reservations....
Sydney to Byron Bay or the other way:

Photo by Rob Lapaer of Rainforest Hideaway B&B, Cape Tribulation, N.Qld.
The Cool Croc bus on the Queensland/Northern Territory border
Western Australia one way bus tours
Western Australia is a huge place, and you could find yourself burning a lot of petrol in a rental car, or spending a lot of time travelling on public transport. But there are some great extended tours available that will get you from A to B with minimum hassle and your driver will make sure that you will not miss any of the highlights along the way!
Around Australia by horse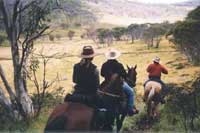 Havehorsewilltravel.com.au is a great Australian BYO Horse Travel Website to find out the latest on where to stop, where to stay, trails to ride and events to attend. Whether you want to cover some miles, or just get away for a holiday with your horse.
Around Australia by ship
Spirit of Tasmania have now doubled the ships, doubled the crossings and doubled the convenience! With two ships you are able to sail to or from Tassie overnight - every night!
Spirit of Tasmania I and II give you all the fun, excitement and romance of sea travel, so crossing Bass Strait will be one of the highlights of your trip. Feel your holiday start the moment you step on board as you sit back, relax and watch the waves roll by, or take advantage of all the great facilities on board.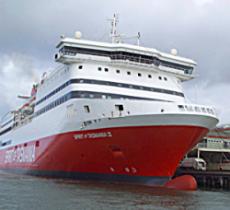 Just think of the freedom you will have - and the money you will save - by taking your own car on holiday with you. You can tour Tasmania or the mainland at your own pace, discovering your own secret corners along the way. It also makes packing easy, as you can take as much as you like: just load up your car with extra suitcases, fishing rods, golf clubs - you name it! More info...
Cruise Sale Finder is the go-to site for all Australians seeking cruises - be they cheap cruises, luxury cruises, river cruises, last-minute cruise deals or any other kind of shipboard holiday. Like our marsupial mascots Merl and Pearl, we are always on the hunt for a good price and a fantastic itinerary.
Since our business launched in 2008 as Cruise Republic, we have helped 220,000 people find a cruise and embark on their dream holiday. This isn't only good news for them, it's great for you too - bulk bookings give us the buying power to negotiate the best deals. It also means we've had plenty of time to perfect a simple and efficient booking engine which offers our customers uncompromising accuracy in handling important travel reservations.

Around Australia by dinghy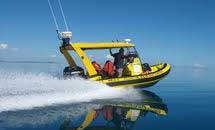 Robert Pennicott, Mick Souter and cameraman Zorro Gamarnik did the first-ever circumnavigation of Australia and Tasmania in an outboard-driven boat in 2011
They departed Sydney on the 2nd June and travelled anticlockwise around the entire coast of Australia in two 5.4m Naiad RIBs (18ft dinghies). They arrived back in Sydney on the 11th September.
Their trip was divided into 77 segments, ranging from 60 to 420 miles. On 48 of the segments, two seats were auctioned to the highest bidder to raise funds for polio eradication and conservation. More info on their website.
Around Australia by motorbike

Photo by Rob Lapaer of Rainforest Hideaway B&B, Cape Tribulation, N.Qld
Australia is a perfect country for motorbikes with its long, wide open roads and beautiful scenery. Dependent on what you want to see you'll have to choose your type of bike, the Harley pictured above may look cool but is not very suitable for exploring the more remote regions. Also you'll have to decide whether to buy or rent or join a tour. Bikeroundoz.com is a good place to start planning your adventure.
For a really remote adventure try Cape York, one of the world's last remaining wilderness areas. See the Cape York Motorcylce Adventures website for more info...
Around Australia by bicycle
This mode of traveling only appeals to a few, due to the enormous distances and the fact that Australian roads and drivers are not very bike-friendly. In outback areas you may find that sometimes there is more than 200 km. between road houses, temperatures are in the high thirties, cattle stations are unfenced and scrub bulls can be unpredictable and a fair bit of (head) wind can blow a well. On the east coast distances between towns are smaller but there are more cars and trucks to dodge. Nevertheless when you travel around Australia you are bound to see cyclists in the most remote areas battling on through heat and distance. Enough seem to do it to make it worthwile for Lonely Planet to publish a special travel guide for cyclists;
Around Australia by camel
A few years ago a friend of mine was going around Oz and in Adelaide met a couple who was going around the country on camels. He decided to team up with them for the Nullarbor leg. By car this is a lenghty drive but on the camels it took them THREE MONTHS to get from Adelaide to Norseman!
This would be a bit too much for most people but you'll be pleased to know there are four day desert tours on camels that you can book online. More info....
Hitch-hiking around Australia

Photo by Rob Lapaer of Rainforest Hideaway B&B, Cape Tribulation, N.Qld.
In the early 1990s hitch-hiking around Australia lost popularity when throughout 1992 and 1993 police kept finding bodies of European tourists in the Belanglo State Forest near Berrima, New South Wales. A total of seven bodies was dug up and Ivan Milat was arrested and charged with their murders and was locked away for probably the remainder of his life. After this the tradition of hitch-hiking has never recovered again, and it might even be illegal now, we'll do some research into this and let you know.
Around Australia by cargo ship
From Cairns you can go up the eastcoast to the top of Cape York and back on a cargo ship that supplies remote coastal communities, it departs once a week and takes about two days for each journey, can also be done as a one-way when you fly the other way. Popular with four wheel drivers that only drive the rough 1000 kms to the top once and then put the truck on the ship for the return journey. Sea Swift's flagship vessel, the MV Trinity Bay, carries up to thirty eight passengers per week on it's voyage from Cairns to Cape York, including stops at Horn Island, Thursday Island and Bamaga.
Around Australia by kayak
American Eric Stiller and Aussie Tony Brown attempted for three months to kayak the 10,000 miles around Australia in a 17-foot-long kayak. Their plan was to just' Keep Australia on your left' , which is also the title of the book they wrote on their experiences. When later interviewed Eric Stiller said: "It seemed like a good idea at the time."
Around Australia by mail-plane
From Cairns you can join the postie in his plane for an awesome flight all over the remote Cape York peninsula.
Around Australia by taxi

A taxi is not normally the most economical, or fun way, to go around Australia. In normal circumstances you'd have to call 131008 and then a trip right around the country would cost you at the going tariffs about $30 000,- if you didn't do too many side trips, but in Western Australia you can get a much better deal this year (2010).
In response to the succesful Queensland campaign featuring the Best Job In The World, WA has now come up with their way to promote the state to tourists; the Extraordinary Taxi Ride. If you go to this website you can apply to be one of the passengers on this amazing nine week adventure and explore Western Australia in a taxi.
Your taxi driver will be a real local character who loves his great state, knows his way around it and is up for showcasing some of WA's best kept secrets.
Around Australia by train

Photo by Rob Lapaer of Rainforest Hideaway B&B, Cape Tribulation, N.Qld.
Although trains are not the favourite mode of transport of the Aussies, you can get around most of the country (except Tasmania) by train and now, after more than a hundred years of talking about it, they have even built a railway to Darwin! See our page on rail journeys for more info...
Visitors from places such as Europe and Japan may be surprised by the lack of high-speed, inter-city rail services in Australia. A historical lack of cooperation between the states, combined with sheer distances and a relatively small population to service, have left Australia with a national rail network that is relatively slow and used mainly for freight.
As a result, travel between major cities will not only be faster by air, but often cheaper as well depending on the route you wish to travel. Train travel between cities is more scenic, and tourists are likely to see more of Australia travelling by train than they would otherwise see, as well as cutting down on their carbon footprint. It is also often a cost effective way of getting to regional towns and cities, which don't have the frequent and cheap flights found between the capital cities.
Rail passes
* East Coast Discovery Pass. Get on and off as many times as you like on the east coast trains between Melbourne and Cairns. Different prices apply depending on which section of the line you want to traverse. One way travel only is permitted. Discounts apply on other train journeys, and often bus connections to local towns are included. This ticket is available to everyone, international visitors and Australian residents.
* Australian Flexi-Pass. Available to non-Australian passport holders. Allows unlimited train travel on the Ghan and the Indian Pacific, New South Wales Countrylink and Queensland Rail. It will get you to every capital city on mainland Australia, as well as the tropical north of Queensland. If you are not travelling to Western Australia or the Northern Territory there are probably cheaper options.
Around Australia by yacht
Hang around a sailing club and check the notice board or talk to the locals, often sailing boats will take on crew to help out with work and expenses, one such place is Cairns where many cruising yachts leave around May to get to Darwin in time for the June Darwin to Ambon race.
Around Australia on foot
This would not appeal to many people, especially those who can't convince their boss to give them at least a year's holidays but this is what Deborah De Williams has done ( march 2004), she was walking in a clockwise direction along Australia's National Highway 1 and returning to Melbourne on Friday 15th October 2004.
During her 'Journey for Kids' Deborah is raising money for Kids Help Line, Australia's only 24 hour, free, confidential and anonymous telephone and online counselling.
Newsflash April 2004: after Deborah had battled cyclones and floods some youngsters in Halls Creek stole, amongst other things, her walkingshoes!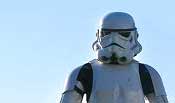 In 2011 21 year old Jacob French, from Bussleton, WA, started out on a 5000 km. walk from Perth to Sydney, dresses up as a Star Wars storm trooper.
He was doing the trek to fundraise for the Starlight Children's Foundation and got a total of $88000 together. Nine months later he arrived in Sydney, 12 kg. lighter. More info on his website.
If you'd like to explore Sydney on foot see Walksydneystreets.net , the website of 90 year old Alan Waddell who has walked 2000 kms thorugh every street of 135 Sydney suburbs.

If this mode of transport appeals to you this might be the travel guide for you;
You know any good ways to get around Australia? Then tell us!