Pythons
Pythons are snakes that can grow to quite long lenghts but are non venomous and not dangerous to adults, though care should be taken with babies, small children and household pets if there are large pythons around.

Photo courtesy of Mason's Tours, Cape Tribulation
The Amethystine Python can grow up to 8.5 metres, the one above being held by the Masons at Cape Tribulation is "only" 4.5 metres. Pythons are often on the move at night and their skin gives the shine of amethyst in the headlights of your car, hence their name. This is by no means the largest python, in January 2004 villagers in Sumatra caught a python that measured 15 metres and weighed 450 kg!
To give you some idea of how big pythons can get, check out these pics of an African rock python, some tourists came across this snake caught in an electric fence, being continually shocked, and getting very angry! The group wondering what to do, decided to divert the current, cut the wire AND let the snake go! (thinking this was the humane thing to do). When the property owner found out he went ballistic, besides being upset about his fence, the snake had been eating lambs in the area, and he'd been trying to catch it for ages. The farmer did not appreciate the help!
Somebody sent us this pic of a python that had en encounter with a cat: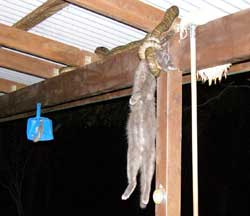 Pythons do not always hang out in the forest, this one was found on the beach at Cedar Bay, north Queensland: