About Cairns - Accommodation - Tours and what to do - Transport and car hire - Photos - Map
Eating & drinking in Cairns

Cairns Esplanade looking out over Trinity Bay
A lot of eating & drinking happens along the Esplanade in Cairns where you will find several food courts, lots of restaurants, take-aways and plenty of bars where backpackers party the night away.

In the food court on the Cairns Esplanade you'll find everything from greasy junkfood to spicy Thai food
Like to try something different? This restaurant just around the corner from the Esplanade on Aplin St. has a good variety;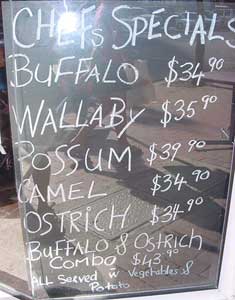 Cairns also still has a lot of the old timber hotels like the one below to add a touch of history to the place, be sure to have a beer in at least one of them. The pub below is Rusty's, behind it the Rusty's markets are held every weekend from Friday morning until Sunday afternoon, fresh fruit and veg and nice Asian takeaway from a couple of caravans in the corner, especially the Thai caravan kicks ass and beats any Thai restaurant in the city centre!

The Crown Hotel on Sheridan Street
Ochre Grill

The Red Ochre Grill has created a whole new Australian Cuisine utilising the abundant and until recently untapped traditional native fruits, berries, game meats, fresh seafood and showcases the best of Australian Wines and Beers. The experience of dining at the Red Ochre Grill is often described as a culinary tour of Australia, but regardless of the superlatives, you will find every dining occasion an adventure and every dish a conversation piece.
More info....
Ocean Spirit Dinner Cruise


As the sun sets, the gentle strumming of the guitar commences - savor this moment…


What a perfect way to end a perfect day! Discover the delights of evening cruising with Ocean Spirit Cruises. Enjoy dinner on a luxurious purpose-built catamaran - Ocean Spirit IV, built for entertaining and dining, while cruising on the beautiful calm waters of Trinity Inlet, Cairns.
A glass of champagne in hand, strolling on the foredeck, savoring the sights of the city and the rainforest clad mountains, a memory to last forever. The setting sun, the ocean breeze and then the stars appear - time for dinner!
Enjoy a sumptuous 4 course buffet dinner (including seafood) featuring the region's best produce - mouth watering prawns, tender roast, reef fish and exotic platters of fruit - all freshly prepared on board by the chefs. More info....
Flames of the Forest Dining Experience

Flames Dinner
© Flames of the Forest

This is not right in Cairns but transfers from Cairns will take you to this forest where you can experience the indigenous culture, customs and unique Australian cuisine. An incomparable evening of event theatre which brings to light & life the stories and secrets of this ancient place. More info....