Amazing Australian Crimes
Melbourne school boy steals two trams !
Most Aussies are pretty honest and friendly people, but like in every country there's always a few baddies amongst the goodies. Below are a couple of the baddies that caught our attention, either as crimes committed in Australia or crimes committed by Australians overseas.

But first a short list of Australia's baddest baddies who have "Never to be released" stamped on their files;
Katherine Knight - she got a bit upset when her boyfriend John Price rejected her in February 2000 so she killed him with dozens of knife stabs, skinned him, cooked parts of his body and served him up on dinner plates, intended to be eaten by John's children. The crime scene was so horrific that police that worked on the scene needed years of psychiatric counselling. She has been called a cross of Black Widow and Hannibal Lecter.
Martin Bryant - He was known around his town as a quiet lad but in 1996 he equipped himselff with semi automatic rifles and managed to kill no less than 35 people including children in about 24 hours in the tourist town of Port Arthur, Tasmania. More...
Kathleen Follbig - From 1989 to 1999 she killed four of her own children that were all less than two years old by smothering them and claiming it to be cot death or natural causes.
John Glover, also known as 'the Granny Killer' - In 1989 and 1990 he killed six elderly women on Sydney's north shore by sneaking up behind them and then hitting them over the head with a hammer. He now entertains himself with playing mind games with the police and practical jokes like putting cockroaches in sandwiches.
Robert Dunn - from 1985 to 1995 he drugged 24 children as young as seven years old and then videotaped himself sexually assaulting them. He is in a special wing of Sydney's Long Bay jail that houses 200 child molesters that are being kept separate to protect them from other prisoners.
Ivan Milat - bashed and killed at least seven hitch hikers and buried them in a state forest. He has also been named as a person of interest in more murders and disappearances but denies them all. More...
Crime tours in Melbourne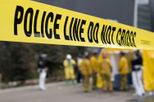 Interested in crimes? In Melboure you can book on a tour that takes you around the city and tells you all about the illegal things that have gone on there. More info....
Bankers gone bad
Over the last few months of 2003 four foreign-currency dealers at National Australia Bank managed to hide between $180 and $600 million in losses caused by their own private rogue trading by faking multi-million-dollar profits until discovered in early 2004.
Just before that WA bank manager Kim Faithfull, 36, stole nearly $19 million from the Commonwealth Bank Karatha branch that he managed and gambled it away. He pleaded with the bank to show some compassion and not sell his house, which would leave his partner and five-year-old son without a home. Yeah right, we all know banks are really compassionate don't we? Over a period of five years he managed to win and lose half to one million dollars a week but never managed to get all the money back that he had "borrowed" from the bank.
At the time these sounded like big deals, until Leeson in Singapore managed to totally eliminate and bankrupt the bank he worked for, and then a Frenchman broke that record again with a whopping seven billion or so share trading fraud in 2008.
Barefoot bankrobber
Simplicity can be the key to success! In 1989 a 'bushie' looking character walked into the Bank of South Australia in Knuckey St. Darwin, barefoot and dressed in an old pair of shorts and singlet and a big beard and sunglasses and demanded money. The teller gave him a handsome sum and he walked out the door and around the corner( he had no getaway car). Later it was found he had changed his clothes in a public toilet just down the street before he disappeared and the case has never been solved!
Being drunk
Victoria is the only state in Australia where being drunk in a public place is a criminal offence and is punishable by a $100 fine. But in March 2006 a parliamentary inquiry recommended that this law should be changed to decriminalise public drunkenness.
Bible basher
The assistant pastor and two bible study teachers of the Open Door Korean Church at Chatswood, Sydney, had noticed that 19-year-old Angela Kim did not attend church services as regular as they would like to see. So they arranged a meeting with her in a park in north Sydney, where they kicked an punched her severely. The leader of this stupidity got 12 months jail and the helpers 6 months.
Bridge thrower
Arthur Freeman is no longer a free man, since police arrested him for killing his own four-year-old daughter Darcey by throwing her off Melbourne's West Gate Bridge in January 2009.
Can not eat money
An old Indian American Cree philosphy says;
only after every tree has been cut
only after every fish has been caught
only after every river has been poisoned
only then will you find that money can not be eaten.
But 34 year old Robert Hulme tried it anyway in December 2004. After he had stolen $800.- from a woman in Sydney his getaway car got stuck at a traffic light and witnesses to the robbery held the doors of the car closed while they waited for police. When police arrived they found him in a not too healthy looking state and then, much to their surprise, started throwing up $50.- bills until he reached a total of $600.- He had come up with the idea to hide the evidence and eat the money! Another couple of notes were found between his buttocks and then he was taken to hospital and kept in custody.
Child sex charges
In June 2007 a 44 year old truckie from Cairns appeared in court charged with no less than 103 child sex offences.
We hope the tragic truckie will be locked away for a very long time.
Dumb and dumber
19 Year old Aussie boys Luke Carroll and Anthony Prince from Byron Bay were in the US on a snowboarding holiday when they came up with the brilliant idea to rob a bank and then fly to Mexico with the cash, like you always see in the (cheap) movies.
Armed with BB guns that appeared to be pistols they went to the local bank in Vail, Colorado, and managed to get the amount of $US132,000 from the tellers.
Unfortunately they left such a wealth of clues that police had established their identities in less than ten minutes and they were arrested in no time at all and made the news headlines as the Dumb And Dumber couple, relating to Jim Carey's movie of two idiots on a road trip.
Blunders included choosing a bank where they were known, not disguising their Aussie accents, buying a fancy Rolex watch with a mountain of $5 notes in a nearby shop just after the robbery, giving a taxi driver a 20 grand tip, forgetting to take off their work name tags, etc.
They served five years in a US prison before making it home to Oz again..
Get it Indiya!!
A Sydney couple was a bit hungry, so they got on the phone to the local Indian restaurant and ordered some curry.
The curry did not come in a hurry, so by the time the delivery driver turned up at their door they had both fallen asleep.
The Indian, who in court also claimed to be a member of the Nepalese royal family just to add to the amazingness of this story, found the front door open, so when he received no reply to his calls he entered the house.
He said he found the man asleep on the couch and tried to wake him, without any success.
Then he entered the bedroom where the woman was asleep, and tried to wake her, but instead of getting up and paying for the curry, she removed some clothing and the Indian curry carrier thought "get it Indya!' and he rooted her!
Later during court proceedings the judge had to work out if this was rape or not, as the Indian claimed he had been invited for consensual sex, but the woman claimed she had thought it was her husband trying to wake her.
Family massacre
24 Year old Sydney student Sef Gonzales was on his way to failing his pre-law course and did not want his family to find out so he came up with a plan; kill the family and that way they will never know, and that way he'd get the family money too. He bought some poisonous seeds that he fed to his mother but she survived so in July 2001 he stabbed both his parents to death and stabbed, strangled and bashed with a baseball bat, his 18 year old sister. To divert attention from himself he painted "F#&! off Asians" on the kitchen wall, faked his own abduction and wrote emails pretending to originate from a Filipino businessman's hitman.
Initially he told police that he was out driving when the murders happened but later changed this into a brothel visit. This alibi also fell through as the girl he said he visited did not work that week. The NSW Supreme Court sentenced him to three life sentences.
Some real estate agents that later sold the house without disclosing the macabre history were also fined in court.
Father killer
In April 2008 a 17 year old boy in Mudgee NSW shot his sleeping father dead in his bed with a stolen double barrel shotgun. He and his brother checked up on their d(e)ad and then, instead of calling police, returned to their bedrooms, where they continued to watch TV for the rest of the night.
F%#* the landlady!
If your landlady evicts you from your flat you might think or say "F%#* the landlady!" but most people would leave it at that. Not bricklayer Antony Welsh, he took this literally and in May 2004, a month after being evicted, went to his (ex)landlady's house together with his mate Lachlan, and equipped with knife, video camera, hood and rope. When the landlady came home she was bound, gagged and hooded and for the next two hours Antony F%#*ed the landlady while his mate videotaped it all. Now Anthony does not need to worry about being evicted again for the next 20 years, as this is the jail sentence both he and his mate received. Order the tape here
Head stolen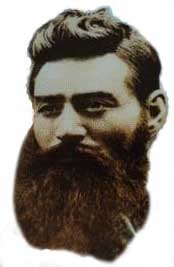 In 1978 thieves stole the head of Ned Kelly that was on display at the Old Melbourne Gaol and it was never seen again until a bloke from the Kimberleys declared himself the custodian of the skull.
HIH collapse
HIH became Australia's biggest ever corporate collapse when it failed in March 2001 with liabilities of $5.3 billion. Many people lost their life savings, and with most doctors and others in the medical business being insured here the collapse also lead to a health care crisis, as suddenly they found themselves working without insurance cover. The government had to step in with temporary arrangements to avoid a country with no doctors but many in the medical profession found the new insurance schemes to expensive and stopped working or went into early retirement.
The former director, 45 year old Rodney Adler, said he had made some "stupid errors of judgment", but the judge disagreed with this terminology, cited several examples of gross misconduct, fraud and outright lies, and sentenced him to a maximum of four and a half years in jail for four crimes of dishonesty committed in his time at the failed insurer, but he will probably only do two and a half years of that. In 2002 he had already been banned from being a company director for 20 years
While he knew HIH was already going down the tubes he made false statements to obtain $2 million from HIH for his own company, Business Thinking Systems. He was the first former director to be convicted but not the last. While in prison he got caught out trying to run a business, disguised as helping his kids with homework. This led to a promotion as toilet cleaner.
Former HIH chief Ray Williams is serving a four-year jail sentence for his role in the HIH collapse in the same jail and is also on toliet duties. Late 2005 he was also stripped of his prized Order of Australia award by Governor-General Michael Jeffery.
Hitch-hiker from hell
John and Alois McDonald picked up hitch hiker Ashley Appoo in Queensland in November 2001 and invited him over for lunch at their house. They must have got on well as he ended up staying at their house but two days later during a conversation about religion Alois told him that she and John were atheist and the devout christian Ashley snapped. He started punching Alois and when her husband came to the rescue Ashley killed him with an axe. Alois survived but with multiple injuries and an axewound to her leg. Ashley is spending 18 years in jail.
Holiday from hell
In June 2003 18 year old Kiwi backpacker Aryan Hendrickson had the holiday from hell when within a day of arrival in Australia he was held hostage, stripped, burnt and bashed with a cricket bat for a whole night by homeless men who wanted his bank PIN. With a pillow case over his head and a wooden contraption with a rope around his neck he had his legs, toes, stomach and backside burnt, his testicles pulled, was whipped with cord, and bashed with a cricket bat around the head and body. He was fortunate that one of his tormentors thought it all too much at one stage and called the police who raided the place early in the morning.
Icecream war
On February 5, 2002, Melbourne icecream vendor Francesco Mangione, 46, of Moonee Ponds hacked to death competitor icecream vendor Denis Giunta with a home-made sword and stabbed him 55 times because they had disagreements on who could sell icecream on what streets. Denis' missus jumped out of a window to escape and broke her leg. Victorian Supreme Court judge Justice David Harper jailed him for 22 years with a minimum non-parole term of 18 years.
Jealousy murder
Sydney bloke Gabor Ziha was not all that pleased with his ex-missus Marija rooting her new bloke Barry Corbett, so he went up to their house in Parramatta where he found them in bed and he stabbed and killed Barry and then also chopped his penis off and hid it in one of the bedside drawers. The judge thought this was all a bit over the top and sentenced him to 24 years in prison.
Lesbian killers
Aussie girls Jessica and Valerie also went to jail for 24 years in 2008, they had killed their 16 year old friend Stacey by bashing her head with a concrete block and strangling her with a chain, after which they videoed the bloodied bedroom and kissed eachother over Stacey's half naked body, and then dumped her in a wheelie bin.
Melbourne's sexy train announcements
Announcements on the train are usually hard to understand and pretty boring and predictable, but in January 2006 Melbourne's sexy train announcer struck again, entertaining amused train passengers.
A mysterious husky-voiced female hijacked the PA system on a peak-hour train bound for Frankston and broadcasted some very sexually explicit praise of the driver to both shocked and surprised passengers .
Only a week earlier passengers on the Sandringham line were treated to an equally graphic report about how the mystery woman was going to have sex with the train driver. While some passengers saw the saucy stories as a welcome diversion from the boring trip to the office there were also families on board with parents not overly happy about their children being exposed to the graphic content of the broadcast. Police and Transit Safety Division officers are on the lookout for the saucy sheila.
Mothers Day from hell
A 62 year old woman from Brisbane had the Mothers Day from hell when her 24 year old son stabbed and killed her with a pitch fork in her sleep on Mothers Day 2004.
Musician's fingers hacked off
21 Year old saxophonist Phil Evans arrived at his Brisbane home in July 2003 and found a couple of men who tied him up, taped his mouth up, and then started hacking his fingers off with an axe. After he had screamed when the first finger was cut off the attackers told him that his flatmates were doused in petrol in the room next door and would be set on fire if he screamed again. The attackers cut off a total of three fingers during the ordeal.
Nagging mum
Does your mum nag and drive you nuts? Let her read this article and she might shut up...
The mother of Raymond Parkes used to nag a bit and it drove him that nuts that while his poor 83 year old mum was watching televison he picked up a metal pipe and bashed her over the head several times in January 2005. He went to work the next day to his bus driving job as if nothing had happened.
Raymond already had a colorful history as he had also once robbed a bank and set it alight with a molotov cocktail while dressed up as a woman.
Nigerian scam
We all get the regular email from Nigeria with the great news that millions of dollars can be ours as long as we provide a bankaccount to funnel unclaimed fortunes from Nigeria to a western country but in October 2003 police arrested a 39-year-old Sydney man in relation this scam commonly known as "Nigerian fraud".
Detectives from the State Crime Command Assets Confiscation Unit arrested the man during a search of a property in Nyngan in the state's central west. They also raided two homes in Sydney's south west, seizing a number of computers and documents and said the ACU had uncovered a Sydney-based international syndicate that had targeted hundreds of victims in Australia and overseas.
More recently the scammers have moved on to the accommodation industry, see an example here..
Norfolk Island mystery murder
Norfolk Island is an Australian administered Territory, about 1600km northeast of Sydney, which is a quiet and peaceful place with a small population.
It was therefore all the more shocking that 29 year old Sydney woman Janelle Patton was found dead there in 2002 with massive injuries, totalling 64 in all, pointing to a frenzied stabbing attack. She was found wrapped in black plastic at the Cockpit Waterfall Reserve on the northern coast of the island on Easter Sunday, March 31. This was the island's first murder for over a century. Locals were both shocked and scared of who would be next, as police did not have much success tracking down the killer. It was only four years later in 2006 that police in New Zealand achieved a major breakthrough in the case, thanks to DNA evidence, with the arrest of 28 year old man Glenn Peter Charles McNeill in his home town Nelson. He told investigators he had accidentally hit her with his car as he drove along Rooty Hill Road on Norfolk Island.
Penguin prank
In April 2012 Rhys Jones and Keri Mules from Wales broke in to Gold Coast Sea World and stole a fairy penguin named Dirk , after emptying a fire extinguisher in to the shark tank and a swim with the dolphins.
They were fined $1000 each and got kicked out of their rented apartment.
Rhys told media the night was not unlike the movie The Hangover, being barely able to remember the night itself, and in the morning finding the penguin in his walk-in-wardrobe.
Peter Falconio
Peter Falconio, 28, and his girlfriend Joanne Lees were driving their Kombi van north on a very remote stretch of the Stuart Highway, near Barrow Creek, on the night of July 14, 2001.
They were overtaken by a car of which the driver signalled them to stop. After pulling over and stopping Peter followed the man to the rear of the Kombi van and Joanne heard a loud bang and Peter Falconio has never been seen again. The gun man then bound Joanne's wrists with cable ties and punched her in the head before she managed to escape, she ran into the dark outback and hid under a bush for about five hours. She then returned to the dark highway where she flagged down a truck that took her to the nearest roadhouse where the publican contacted police.
Despite a huge manhunt it took almost two years for a suspect to be found in South Australia, in November 2003 Bradley John Murdoch was brought to the Northern Territory for questioning, and after the longest murder trial in the Northern Territory's history, in December 2005 he was found guilty of killing Peter Falconio. The jury had taken eight hours of deliberation to come to a unanimous verdict. Murdoch had been in trouble with the law on previous occasions, in 1995 he spent seven months in prison for shooting at a parked car in Fitzroy Crossing in which an Aboriginal woman was sleeping.
Murdoch has been imprisoned for the rest of his life in Darwin but the where abouts of Peter Falconio's body remain a mystery. Murdoch has been offered a transfer to be closer to his mother so she can visit him if shows police the grave but so far has not taken up the offer, but he did hatch an escape plan that was discovered.
Life in jail might have bettered him a bit, Murdoch used to be a racist and has a tattoo of a lynched black man on his arm but apparently he is now getting along well with indigenous prisoners.
Phone fury

Don't forget your mobile when you stay here...
In June 2005 Aussie actor Russell Crowe was staying in SoHo's Mercer Hotel in New York while he was promoting his new movie Cinderella Man. Vogue Magazine has described this place as the hottest hotel in New York, and this night temperatures certainly ran high. Russell wanted to call the missus back in Oz to let her know everything was OK in the Big Apple. With the phone in his room he was not able to ring Australia, a bit pathetic as one would expect a phone in a $4,000-a-night room to be working very smoothly.
Russell had been staying in the hotel for a week now and despite daily complaints the bloody thing still did not work properly, so he took the phone to reception at around 04.20AM where he found concierge Nestor Estrada being not overly helpful. Russell became a bit stressed as there was only a certain time frame to ring before the missus would go to sleep back in Sydney with time difference between the US and Oz, and also you'd assume that when you pay $4000.- a night for your room that the phone would work, so when the concierge did not solve the problem to his satisfaction Russell threw the phone against the wall, but it bounced back and hit the recalcitrant concierge in the head.
The damage to the concierge was only a very minor cut but then the shit hit the fan, Russell was arrested and spent the morning locked up in a Manhattan police cell and got paraded in handcuffs past a big crowd of photographers. He was charged with assault in the second degree and criminal possession of a weapon in the fourth degree. Possible outcomes of his courtcase included the US government barring him from working in America or a seven year jail sentence.
He appeared on David Letterman's TV talkshow in damage control saying this is possibly the most shameful situation I've ever gotten myself in in my life, and I've done some pretty dumb things in my life, and it was reported that the concierge got a payout of $136,000 from him too for the little scratch.
The saga finished with a reasonably happy ending when Manhattan Criminal Court Judge Kathryn Freed sentenced the actor to a conditional discharge, which means she let him off but he must not get arrested for one year, and a $US160 court surcharge. She probably admired Russel's patience for putting up with a faulty phone for a week in a room for which he was charged $28,000.- over this time. While any New York or Los Angeles criminal defense lawyer could have easily gotten the charges dropped, the whole incident was totally overblown and was a real hassle for Russel Crowe.

Aussies going on holidays to the US should be aware that Yanks are a bit sensitive, early 2006 Aussie woman Pauline Clayton was in a cinema in Texas watching Brokeback Mountain when a local woman started talking on a mobile phone. Everybody knows that talking into your mobile in a cinema is a big no-no but this woman did not want to listen to Pauline's requests for silence, and then when Pauline tapped her on the shoulder to get her attention all hell broke lose with the Yank yelling at the Aussie, storming out of the cinema and calling the cops, who promptly arrived to march Pauline off to the nearest cop shop where she was fined $176.- for invading private space and assault!
And in August 2007 another Aussie sheila managed to get herself in trouble in the States.
Sophie Reynolds was on a flight to Pittsburgh to meet her internet love when she was feeling a bit peckish and asked the flight attendant for some more Pretzels. When she was told that there were no more Pretzels on the plane she muttered "fair dinkum...". This is Aussie lingo for "really?" or "is that right?" but the Yankee flight attendant was not familiar with Aussie lingo and thought she was being sworn at and in the US it is a Federal offence to swear at flight attendants so when the plane landed Sophie found three policemen waiting for her! Unlike Russell Crowe and Pauline Clayton above, she managed to convince the authorities that it had all been a misunderstanding and got away without paying a fine.
And we just heard that Aussie uni student Andrew Thistleton is in court in the US for throwing a snowball at someone at a ski resort in Colorado, he has pleaded not guilty to serious charges of third degree assault, which could land him in jail for 18 months.
Pissed off about a parking ticket
We all get pissed off from time to time when we get a parking ticket, but most people just grumble about it, pay and forget. Some enterprising individuals in Darwin took it a step further by breaking into Darwin City Council headquarters where they lined up five motorcycle helmets used by parking officers and urinated in them. Nothing else was stolen or damaged in the break-in. The parking officers are now keeping their helmets in another safe place at night. (This gives a whole new meaning to the term 'pisshead'.)
Poisoned cat
43 year old Tasmanian psychologist Stephen Alexander Harper was very fond of his cat Tootie, so when it died in August 2006 and his mother laughed about it he presumed she had poisoned the cat and he exploded with rage and killed both his parents with an axe.
Port Arthur Massacre

Port Arthur
On April 28 1996, 28 year old Hobart resident Martin Bryant managed to kill no less than 35 people including children in the tourist town of Port Arthur, Tasmania. Well equipped with several semi-automatic rifles he started the killingspree in the Broad Arrow Cafe and ended up in Sea Scape Cottage with several hostages. Police reinforcements were flown in from far and wide, negotiations continued through the night and then the next morning at 08.25 am smoke started billowing from the house and Martin ran out with his clothing on fire and was arrested. Several more bodies were found in the remains of the guest house bringing the toll of this 19 hour ordeal up to 35 men, women and children dead and another 18 wounded. People that knew him described him as a loner and a quiet lad. Also he was, due to an inheritance, a millionaire, but instead of living it up in a tropical holiday destination like he could have afforded he now spends his time behind bars serving his sentence of 35 life imprisonments, (one for each person killed) and twenty 21 year imprisonments, one for every other person injured. Although he lives in a specially constructed cell, ife behind bars has not been real enjoyable for him, he's not real popular with the other prisoners and has been bashed up several times and has attempted suicide at least four times. Psychological reports give him the mental age of an 11 year old and an IQ of 66, he has also gained 30kg. during his time in captivity.

Martin Bryant
Possessed by public transport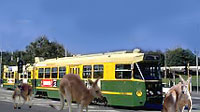 Some boys dream about becoming train drivers when they grow up but one Melbourne boy could not wait that long. At the age of 15 he had already stolen two trams, a schoolbus and attempted to take off in a train.
With the schoolbus he had attempted to do burn outs within the school grounds, but with the trams he actually crossed Melbourne's southern and eastern suburbs, picking up and dropping off passengers while running red lights and overshooting tram stops at speeds of up to 80 km/h! He ended up in court on no less than 19 charges and was kept in custody as authorities were convinced he would keep doing the same thing if released.
Rabbit massacre
In October 2005 36 year old Kiwi businessman Brendan McMahon appeared in Sydney's Downing Centre Local Court on charges of bestiality and cruelty involving rabbits and was ordered to stay away from pet shops and farms. In and around his office police had found at least 50 dead and mutiliated rabbits, which had also sexually been interfered with.
Restaurant robbery
In June 2004 a gang held up an entire restaurant in Sydney, demanding customer's cash. This turned out to be not overly succesful as Aussies rely on their credit cards for most purchases these days so the robbers made off with a lousy $600.-
Charlie Colosi, the owner of the Grappa Ristorante, said he was just happy that none of the patrons had been hurt.
Russian bride shoe murder
66 Year old John Kiseljev from Sydney thought he was a pretty lucky man when he married his 22 year old Russian bride Nadejda Zassoukhina in September 2002.
But the happiness started going downhill soon after the wedding and it was not long until they were sleeping in separate rooms and severe arguments would be a daily routine. John started locking his bedroom and kept food and water in his room so he would not have to come out while she was around. He even used a bucket as a toilet to avoid running into her in the bathroom and being confronted.
On November 19 it was on again and Nadejda kicked his door for nearly an hour and when John finally opened it a fight began in which John held a cloth over Nadejda's mouth and hit her repeatedly on the head with a shoe, until he realized she was dead. Although the judge did agree there had been provocation he still locked John away until 2014.
Tank against towers
45 year old John Patterson used to work for Telstra, but ran in to strife with them when he reckoned the radiation from mobile phone towers was damaging his head. He put in a medical compensation claim but of course Telstra was not forthcoming with money, and John got to the point where he was that frustrated with the situation that he stole an ex-British Army tank from a garage where it was being restored.
In the middle of the night in July 2007 he jumped in a 1967 Trojan armoured personnel carrier and while being chased through six Sydney suburbs by 10 police vehicles he made his way to a Telstra site where he managed to destroy no less than six mobile phone towers, several sheds, garden furniture and an electrical substation.
Unfortunately then the engine stalled before he could start on the seventh mobile phone tower and police were able to use capsicum spray and drag him out of the tank.
The angels made me do it

Photo by Nancy Hagoort
This pic was taken on the Adelaide River, not far from where the boys
dumped the bodies expecting them to be eaten by the crocs.
The reputation of the appetite of crocodiles received a bit of a dent when early March 2004 the bodies of two Thai prostitutes were found in the Adelaide River near Darwin. They had been thrown off a bridge weighed down with car batteries and had drowned and their intact bodies were found by a boatload of croc-spotting tourists 30 hours later. Although first it was reported in the media that this was the start of an underworld war in Darwin to gain control of prostitution it turned out to be two eighteen year old lads who had fled to Queensland and were arrested fairly soon. Many people have come up with the excuse "the devil made me do it' over the years, this time the excuse was "the angels made me do it". The boys claimed they owed the Hells Angels 50 grand and had done this job to pay their debt, though they later admitted to making this up.
The Backpacker Murders
In the early 1990s the tradition of hitch-hiking around Australia came to an end when through out 1992 and 1993 police kept finding bodies of European tourists in the Belanglo State Forest near Berrima, New South Wales. A total of seven bodies was dug up and after lengthy investigations Ivan Milat was arrested in 1994 and charged with their murders in 1996 and was locked away for probably the remainder of his life. After this the tradition of hitch-hiking has never recovered again.
Later rumours started that Ivan Milat had not operated alone and that another woman, possible his sister, had been involved too. In 2005 John Garrihy claimed to have been abducted by Ivan Milat and a dark haired woman in 1985 while he was hitching from Melbourne to Port Macquarie.
During the ride they spoke a foreign language he could not understand but he got the eerie feeling they were talking about him, and when they pulled over at a roadhouse for something to eat he wanted to get out of the car but the driver, Milat, told him to stay in the car. This freaked him out enough to run away as soon as the others were out of sight and he fled and hid behind some public toilets. When years later John saw Milat's face on TV he swore never to hitch hike again.
Milat has never confessed and still claims to be innocent and dreams of escaping from jail. A hacksaw blade has been found in his cell and several times he has injured himself in the hope of going to hospital where security would be lower, he also went on a hunger strike for 57 days in 2001.
While serving a life sentence at NSW's Goulburn supermax jail, in January 2009 he used a prison-issued plastic knife to cut off his little finger below the knuckle on his left hand, and then mailed the digit to the NSW Supreme Court Justice.
Englishman Paul Onions at the age of 24 escaped from the clutches of Ivan Milat on January 25, 1990 and later turned star witness in the trial that would lock the killer up for life, he was paid a reward of more than $200,000, but he never cashed the cheque and handed it in to the Australian High Commission in London.
He had been hitchhiking on the outskirts of Sydney, only weeks after arriving in Australia, when he was offered a lift by Ivan Milat ( who called himself Bill), and soon after the pickup the driver pulled out a gun and told Paul this was a robbery. Ivan then tried to tie up Paul, but he managed to get out of the car and ran away while Ivan fired a shot at him that missed.
In November 2010 police found the dead body of an 18 year old man in a shallow grave in the infamous Belanglo State Forest, he had been killed on his birthday. Three teenagers were arrested in connection with the murder and would you believe it, one of them was a relative of Ivan Milat!
The Cheeky Bandit
In December 2003 a thief left a rather unusual clue after breaking into a Darwin office. The cheeky thief left several images of his/her bottom, created by the office photocopier! Detectives are yet to identify the thief's gender but forensic testing is being carried out and results will be known soon.
The Collector
Pest controller Hendrikus "Hank" van Leeuwen managed to carry home more than 2,000 items from the Australian Museum in Sydney in a five-year spree from 1997 to 2002, they included skulls, skeletons, skins and even a large stuffed lion.
The Lost Bandit
A bandit who robbed a rural service station missed his getaway car. The man, armed with a rifle and wearing a balaclava, entered the Mobil service station on the Gore Highway at Southbrook, southwest of Toowoomba, about 9.45pm on Thursday. The truck stop was packed with staff and a room full of truckies having their dinner. He told everyone to get down on the floor and demanded money from a woman behind the counter, then fired a warning shot into a fridge and fled into a back paddock. Instead of speeding away in his getaway car, he became lost in the heavy rain and turned up at a property 10km down the road at first daylight the next morning -- eight hours after the robbery and hitched a lift from a local property owner.
The Mower Murder
Darwin's heat has been known to drive people "troppo" and that's what might have happened to Alan Forscutt; the noise of his neighbour William Caldwell's lawnmower annoyed him that much that he stormed out into the yard and shot him point blank in the suburb of Nakara in 1986. His excuse later was that it made him "feel good". He is still in jail twenty years later and the way it looks he might stay there for the rest of his life, though in February 2004 Forscutt was allowed out of prison last for two hours, escorted by a guard and two mental health nurses. The Darwin newspaper reported this and the court issued a suppression order making it illegal for the media to report when this killer, who was officially declared insane, would walk through the city again.
In August 2004 he made the news again because he put four paintings in an annual prisoners' art show at Darwin's Fannie Bay Gaol that were considered a bit rude by some people, one showed a naked woman with her legs spread and another showed men having sex and injecting drugs. Prison art lecturer Fiona Cocks, who put the exhibition together, said that the public will often see things as offensive when they are just challenging perceptions.
The Postcard Bandit
Brendan Abbott traveled around Australia for years robbing banks in the days when police in different states could not yet see the point of working together so all he had to do was move from state to state to elude capture and felt that confident he even used to tease the authorities by sending them postcards.
After a career spanning a decade and reportedly stealing about five million dollars he was finally captured in Darwin, N.T.
He is now still in maximum security at Longland jail in Brisbane and early November 2003 went on a hungerstrike for one day claiming to be a political prisoner, he also has lawyers traveling to the U.S. to try and exploit some United Nations legislation.
The Speargun Killer
Spearguns are normally used for fishing but in March 2004 John Myles Sharpe from Victoria used one to kill his wife Anna with two shots to the head, after which he dismembered the body with a chainsaw. Four days later he used the same speargun to kill his 2 year old daughter Gracie and then dumped both bodies in bins at the Mornington waste transfer station. This earned him a minimum of 33 years in jail.
The Tomato Killers
In June 2010 millions of tomatoes and salad crops around Bowen were poisoned by saboteurs, 30 out of 48 growers were affected in this area.
The damage bill of an estimated $26 million threatened to put several growers out of business and double or triple the prices of tomatoes, and this was already the third time this had happened.
The Tomato Terrorist
34 Year old Anthony Donohue appeared in the Gold Coast's Southport Magistrates' Court in November 2005 charged with two counts of threatening to endanger the safety of an aircraft.
It was alleged he had made a phonecall threatening to blow a helicopter out of the sky using a home-made bazooka loaded with tomatoes.
The Umbrella Murder
Not only in James Bond movies are people killed with umbrellas, 18 year old Chris Williams got into an argument with another teenager at a tram stop in Melbourne in October 2003 and was fatally stabbed with an umbrella and died several days later.
Two dollars at a time
Canberra man William Grzeskowiak worked at the Mint where the Australian money is produced. Everyday he used to put a couple of two dollar coins in his shoes and lunchbox and when police finally raided his house and some other properties they found over $100,000 in two dollar coins! He was arrested in Bendigo, Victoria in February 2005 after a local business owner became suspicious when he tried to exchange large amounts of two dollar coins and called police.
Santa
On October 23, 2003, Kevin Hyder, 61, a Melbourne pensioner of suburban Coburg, robbed a paint store wearing a Santa hat fashioned into a balaclava by slashing two eye holes near the hat's peak. Armed with a claw hammer he confronted the 67-year-old owner of Leos Decorators at McKinnon and escaped with $852 in cash but through the exertion of his quick getaway suffered an angina attack and was forced to knock on the doors of several nearby homes requesting they drive him to a doctor or the nearest railway station. He was taken by ambulance to Monash Medical Centre where police arrested him.
Santa 2
In December 2003 Tasmaniac Gregory John Hartland-White also dressed up as Santa Claus and armed himself with a fake gun and robbed a Tasmanian branch of Westpac of $13,451 . He purchased a Santa suit from a nearby store, found two pieces of pipe, which he bound together to make the ends look like a double-barrelled shotgun and only one hour and 20 minutes after coming up with the idea he held up the bank dressed as Santa Claus. After the hold up he changed his clothes in a horse-float for hire at a nearby service station in full view of witnesses before pedalling away on a bicycle and was still wearing red Santa pants under his trousers when later apprehended by police. He was sentenced to four years.
Sex education
All responsible parents know they have to give their children sex education but one 54 year old fundamentalist church pastor from South Australia took this a bit too serious. For nearly ten years he used to have sex with his 13 and 15 year old daughters, for the purpose of educating them how to be good wives.
S.A. Judge David Lovell thought this was not a very good excuse and sent the perverted pastor to jail for eight years.
Spam senders
Do you hate all that spam that you get in your email everyday? You will be pleased to hear that at least one of those spammers got caught. The Perth based company Clarity1 Pty Ltd went to court in 2006 for sending no less than 280 million spam emails of which about 74 million were successfully delivered between April 2004 and April 2006 and they were fined $5.5 million. It was the first time an Australian company has been fined for sending spam and hopefully others will be caught too.
Why did the woman cross the road?
This sounds like a joke but the reason 83 old pensioner Pat Gallen crossed the road was to buy some groceries in her home town, the sleepy little village of Malanda in the Atherton Tablelands near Cairns. Unfortunately this got her in trouble with the law in an incident that made national headlines.
Due to the fact that she is 83, has a bad knee and relies on a walking stick to get around she moves a bit slow.
She was spotted by a passing police car and instead of the police officer getting out to assist the old lady across the road (like we all get taught to do in primary school) the officer got the ticket book out and fined Pat $30.- for crossing the road too slow and not in the most direct manner. Local residents were outraged and even senior police were embarrassed about this incident and tore up the ticket under public pressure.
You heard of (or committed) any amazing Australian crimes? Then tell us!