Amazing Australian Mysteries
Australian mystery, what happened to the hiker up Mount Sorrow?
A few things have happened over the years in Australia that are still a mystery to this day.
Below is a selection of them...
Azaria
On August 17, 1980 the Chamberlain family went camping at Ayres Rock. This turned into the camping trip from hell when nine weeks old baby Azaria disappeared from the tent. Mother Lindy claimed a dingo had dragged the baby away but (as this had never happened before) authorities did not believe her and after two years of courtcases convicted her to life imprisonment for the murder of her daughter, father Michael was convicted of being an acessory to murder. Three years later another inquiry overturned the sentence and they were released from jail. All sorts of wild theories had developed around this case, including the baby having been sacrificed in a religious ritual. The whole scenario was later made into a book and movie, Evil Angels, starring Meryl Streep and they did various book deals with publishers to bring their side of the story to the world. The case also led to a multitude of dingo jokes ( what do you call a baby in a pram at Ayres Rock? Meals on wheels) and T-shirts doing the rounds and the cartoonist Wicking had a field day drawing dingo cartoons in the Northern Territory News. Recent dingo attacks on tourists and children, particularly on Fraser Island, support the claim made by Lindy all those years ago. Lindy Chamberlain told her version of the story in her 1990 autobiography, Through My Eyes, which was made into a movie.
A new twist to the story...
In July 2004 an elderly Melbourne man claimed he knew what had happened that fateful night. 78 year old Frank Cole told reporters that he and three mates were camping at Uluru in 1980 when he went out with his rifle to shoot some food for his dog. Around dusk he thought he saw a rabbit in the bush and shot it, to find he had shot a dingo that had a baby in his mouth. He then took the baby, which had several puncture wounds to her head and an ear missing, back to his mates. As the guys had broken several laws having a gun in the park and having shot a dingo, they decided that two would drive back to Melbourne with the gun and the other two would talk to the police and tell them they had hit the dingo on the road and discovered the baby in its mouth. The two, however, never did talk to police and as time passed on, all the men died one by one. This left Frank Cole as the sole survivor, who now wanted to tell his story before he would die too, taking this mystery to the grave with him. He thought one of the other men might have buried the baby in his backyard in Melbourne. The current owner of the house was driven nuts by journalists banging on his door and another possible house yard where the body could be could not be dug up as the site was now occupied by a large block of units. Police are investigating his claims, the police man that was on duty on the fateful night said there were a few holes in Frank's story, Lindy's lawyers of the time seemed to believe him, but Lindy herself did not. The plot thickened even more when it was reported on the TV show 'A current affair' in July 2004 that Azaria could still be alive and Lindy was investigating a claim that a fair skinned woman in her twenties was living with Aborigines in the central Australian desert.
Yet another twist...
In August 2005, 25 year old Alice Springs woman Erin Horsburgh contacted her local newspaper the Centralian Advocate with the message that she is Azaria Chamberlain!
She claims she was found by an Aboriginal man, passed to an Aboriginal woman and then handed on to a white woman. Also she says her skin bears dingo teeth scars, and she has frequent dingo nightmares and a family resemblance. Both police and the Alice Springs locals found her story a bit hard to believe but Erin insists on a DNA test to prove her claims. It was reported in the media that Erin wanted money for her story but she contacted us with a strongly worded email that this was not the case and she simply wanted people to know the truth. So we invited her to tell her story but have not heard from her again.
Daniel Nute

Mount Sorrow at Cape Tribulation
Young English guy that set out in 1997 to climb Mount Sorrow in Cape Tribulation, his disappearance was not noticed until staff at P.K.'s backpackers where he had been staying noticed a tent unattended for several weeks in the camping area. Then the alarms started ringing and a search was launched in which no trace whatsoever was found. Not surprising considering there are thousands of hectares of dense rainforest almost impossible to walk through and after three weeks animals like feral pigs would have cleaned up any remains of a body. Also due to the difficult terrain rescuers only followed creek beds and tracks. National Park rangers faced some tough questions in the court during hearings but were not charged. Some believed Daniel had started living with Aborigines in a remote settlement but this was also investigated and found not to be true.
Dollars in the dunny
In August 2011 the cleaners discovered a large amount of cash in the disabled toilets of Channel Nine Studios in Melbourne.
When security footage was reviewed it was found that the mystery man had spent five hours in there to stuff a thousand $100 notes in the bins.
The mystery deepened when in the following week the sewage pipes blocked up and a plumber fished thousands of dollars out of the pipes!
Ghosts in Old Melbourne Gaol?
Paranormal researcher Darren Done and his ghost hunting team conduct regular ghost hunts with microphones and surveillance cameras at the historic 1840 prison building where 136 prisoners were hanged, most famous of them Ned Kelly. So far they have witnessed at least three mysterious events , ranging from an unexplained light crossing a walkway, mysterious orbs and a cry for help. This cry was heard exactly 138 years from the day that a prisoner had killed herself on that same spot. A year later on the same day they taped a voice saying "get out".
Harold Holt
Australian Prime Minister who completely disappeared without a trace while swimming at a beach in Portsea near Melbourne, Victoria on 17 december 1967. Theories to explain this mystery vary from shark attack to heart attack to being kidnapped or assassinated by CIA scuba divers launched from a submarine.
High Aim 6
This is the Aussie version of the Marie Celeste, which was found drifting without its crew in the Atlantic in 1872.
On January 4, 2003, the Taiwan registered 24 metre fishing vessel High Aim 6 was spotted steaming, without a soul on board, towards the WA coast. Its owners had reported it missing a month earlier near the Marshall Islands in the Pacific and the US Coastguard had found a life raft. Officials that boarded the vessel found tonnes of rotting fish but not a single person. The ship was taken to Broome where it remained during investigations. Nearly two years later authorities were still none the wiser and it was decided to demolish the ship. Some Broome locals would have liked to have seen it sunk to become an artificial reef for scuba divers but as it was a wooden ship it could not be guaranteed that once sunk she would stay sunk and could float back to the surface. Nobody knows what would have happened to the captain, engineer and 10 Indonesian crew, theories vary from pirates that killed the crew and then started the engines to a mutiny in which the captain was killed and the crew left in the life rafts. Broome Port Authority chief executive officer Stefan Frodsham said he would be happy to get rid of the ship as it was starting to leak fuel and with the cyclone season approaching there was more potential for disaster.
It's raining chickens!
And you thought it could only rain cats and dogs! On January 2 2005 the first chicken fell with a loud thud on to the roof of Stephen Leung's house. The Civil Aviation Safety Authority thought it may have fallen out of a plane, as experts calculated that from the impact evidence that it would have fallen at least 500 metres. But a few weeks later a second chook crashed through the roof of a house about 800 metres down the road. It was only discovered because of a foul smell, the chook had smashed through the rooftiles and its remains were decaying inside the roof frame.
Several experts were consulted, including a professor from the University of Newcastle, who concluded that the likelyhood of frozen chickens being fired from a big slingshot was greater than two chickens in a month within a kilometre radius falling from a plane.
Peter Falconio
Peter Falconio, 28, and his girlfriend Joanne Lees were driving their Kombi van north on a very remote stretch of the Stuart Highway, near Barrow Creek, on the night of July 14, 2001.
They were overtaken by a car of which the driver signalled them to stop. After pulling over and stopping Peter followed the man to the rear of the Kombi van and Joanne heard a loud bang and Peter Falconio has never been seen again. The gun man then bound Joanne's wrists with cable ties and punched her in the head before she managed to escape, she ran into the dark outback and hid under a bush for about five hours. She then returned to the dark highway where she flagged down a truck that took her to the nearest roadhouse where the publican contacted police.
Despite a huge manhunt it took almost two years for a suspect to be found in South Australia, in November 2003 Bradley John Murdoch was brought to the Northern Territory for questioning, and after the longest murder trial in the Northern Territory's history, in December 2005 he was found guilty of killing Peter Falconio. The jury had taken eight hours of deliberation to come to a unanimous verdict. Murdoch had been in trouble with the law on previous occasions, in 1995 he spent seven months in prison for shooting at a parked car in Fitzroy Crossing in which an Aboriginal woman was sleeping.
Murdoch will be imprisoned for the rest of his life but the where abouts of Peter Falconio's body remain a mystery.
Tasmanian Tigers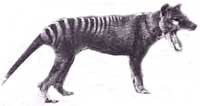 Do they still exist? Officially the last one of this species did in the Hobart Zoo in 1936 but since then people still have reported regular sightings (a total of around 4000) though nobody ever managed to come up with a decent quality photograph. A lot of sightings are usually by owners of Tasmanian wildlife parks (who then get the name of their park in the newspaper for free) but even on mainland Australia people have reported sightings, ranging from Victoria to Western Australia to the jungles of North Queensland.
In February 2005 a Melbourne walked into the Tasmanian Museum and Art Gallery and showed staff photos on his digital camera that his German brother had shot, of an animal that appeared to be a Tasmanian tiger, and said the pictures were taken recently in the Lake St Clair region. Unfortunately he then left again and did not leave any copies. Senior staff confirmed that the photos did appear to be of a Tasmanian tiger but had not had the opportunity to examine the photos close enough to establish their authenticity.
American yachtsman Ted Turner offered a $100,000 reward in 1983 for anyone finding a live Tasmanian tiger and entrepreneur and adventurer Peter Wright spent $250,000 on his unsuccessful hunt for the tiger in 1985.
In 2005 Kerry Packer's Bulletin Magazine offered an even bigger reward of $1.25 million to anyone offering conclusive proof of a live, uninjured Tasmanian tiger in the wild.
Professor Mike Archer, dean of science at the University of New South Wales, started a project in 1999 to clone a Tasmanian tiger from DNA samples. This proved unsuccessful due to poor DNA samples and a lack of facilities and skills and was dumped by the Australian Museum in February 2000. But in October 2005 it was announced that American researchers with genetic sequencing capabilities will be involved for the first time and their expertise is expected to open up new possibilities for bringing the thylacine to life.
The Lonergans
Americans Eileen and Tom Lonergan went diving on January 25, 1998, at St. Crispin's Reef, a popular dive site on the Great Barrier Reef, 25 miles off the coast of Queensland near Port Douglas. The Lonergans, diving veterans from Baton Rouge, Louisiana, had gone out with the Port Douglas based scuba boat Outer Edge. Stories vary, but at the end of the day, the crew did a head count and came up with only 24 of their 26 clients. Someone pointed out two young divers who had jumped in to swim off the bow, and the crew, assuming that they had missed them, adjusted the count to 26.
With the swimmers on board, the Outer Edge headed back to port. Two days later, Geoffrey Nairn, the boat's skipper, discovered Eileen and Tom's personal belongings in the Outer Edge's lost-property bin, including Tom's wallet, glasses, and clothes. Concerned, he called the owner of the Gone Walkabout Hostel, in Cairns, where the couple had been staying, to see if they had returned. They had not. A five-day search began, which turned up no trace of Eileen or Tom. After more than 48 hours in the ocean, the couple may have drowned, or been eaten by sharks. But as the chilling story broke, other theories emerged. One is that they committed suicide, or a murder-suicide took place. Journals in their hotel room hinted at personal troubles, but the couple were devout Catholics with good prospects. Tom, 33, and Eileen, 28, had just come off a three-year tour of duty with the Peace Corps in Tuvalu and Fiji and were en route to Hawaii, where they hoped to settle down.
Another scenario has the Lonergans using the dive boat as part of an elaborate hoax to fake their deaths. Jeanette Brenthall, owner of a bookshop in Port Douglas, believes the couple came into her store on January 27, two days after their dive trip. The pair was also reportedly sighted in a hotel in downtown Darwin. Reports of a boat less than a mile from St. Crispin's Reef seem to support theories that the couple was picked up. But the Lonergans' bank accounts were never touched, and no one ever collected on their insurance policies. A few weeks after they'd gone missing, some of their personal dive gear washed up on a beach 75 miles from the dive site. Six months later, a weathered dive slate-a device used to communicate underwater-with contact information for Eileen's father and the words PLEASE HELP US OR WE WILL DIE. JANUARY 26, 8:00 A.M., was found in the same vicinity as the gear. However this could not have floated ashore as it was demonstrated on TV how the slate sank in a bucket of water.
In November 1999, Geoffrey Nairn was tried on manslaughter charges and acquitted; he believes the jury felt he shouldn't be blamed for a mistake made by the entire crew. His company, Outer Edge Dive, was tried by a civil court in Queensland, pled guilty to negligence, and was fined. Nairn, who closed down Outer Edge Dive shortly thereafter, believes that the Lonergans died on the reef. "It was a tragedy, and I'll never get over it," Back in Baton Rouge, Eileen's father, John Hains, also believes that the couple drowned after being accidentally left behind. "The Australian dive industry wanted to prove that Tom and Eileen faked their deaths," he says of the disappearance theories.
Yet another theory is that they were CIA agents that had stumbled on sensitive information and knew too much., and then either did a runner or were assassinated. A murder suicide was also talked about as an option by the lawyer for Outer Edge.
This mystery has inspired the making of the movie 'Open Water' with Blanchard Ryan and Daniel Travis, which has been described as a mix between Jaws and Blair Witch, and it has outraged the north Queensland dive industry.
You know of some amazing Australian mystery? Then contact us!