Amazing Australian Weddings
Amazing weddings on Magnetic Island
Photo courtesy of Magnetic Island celebrant David Crusty Herron
In some countries you can only get married in the townhall or in the church, in Australia you can get married anywhere! In the pub, on the beach, underwater at the Great Barrier Reef, hanging off a parachute, on a Harley Davidson, you name it!
Aussies spend even more on weddings than on drinking beer! In 2004 the wedding "industry" generated $4.5 billion and beer brewing "only" $2.7 billion.
If you had an amazing Australian wedding send us some photos and a story!
The $2.94 wedding on Christmas Island

Photo by Rob Lapaer of Rainforest Hideaway B&B, Cape Tribulation, N.Qld.
In 2004 the average Aussie wedding cost $36,234.- but on August 30 1986 Rob and Helen tied the knot on the Australian territory Christmas Island in the Indian Ocean for only $2.94 during a sailing trip from Darwin to Europe. When they paid the fee for the celebrant at the administration building ( yes, this was not a typing error, the wedding cost them only $2.94!) it was suggested that they might as well choose the local pub as the venue as the celebrant was going to be there anyway on Saturday night. And so they did, the locals enjoyed a change from the usual Saturday night stuff and the wedding was followed by a good party and another six months of honeymoon sailing to the Meditteranean.
The $6,000,000.- wedding of James Packer
James Packer spent a bit more cash than Rob and Helen above when he married model and singer Erica Baxter, estimates range from 6 to 10 million dollars.
He rented two entire luxury hotels in the French Riviera for the guests and also sent his boat there, the monstrous converted ice-breaker Arctic P.
When it comes to weddings James knows how to throw a party; at his first wedding in Sydney Elton John provided the entertainment and a long list of famous people like Nicole Kidman and John Howard helped to demolish 600 bottles of Dom Perignon.
The nude wedding
Good Friday 2006 was indeed a good friday for a Cairns couple who married in the nude at nudist resort 'the White Cockatoo' in Mossman, north Queensland. It had taken a bit of phoning around to find a celebrant that was willing to do the ceremony in the nude. The wedding took place at 4 pm and was followed by drinks and nibbles before a fully catered tropical wedding feast and live entertainment till late with regular nude musician Stewie.
Burn out wedding

Burn outs are an important part of life in bogan and yobbo culture, and when they get married, of course a wedding would not be complete without at least one good burn out!
Harley weddings
Forget about wedding cars, this couple got married on Harleys! Wild Ride Australia have been providing Harleys for weddings across Sydney for many years now and they make the bride and groom feel that extra special on their day! They understand how important your wedding day is to you both and nothing is too much trouble for them.
Wedding Cakes

Amazing Australian Wedding Cakes
Need a special cake for your wedding?
Kylie in Newcastle, NSW, makes the most amazing Australian Wedding Cakes.
See Kylie's cake creations on her Facebook page.
Wedding ideas

Kiss the Bride Wedding Directory assists couples planning their own wedding either by contacting wedding providers by email of refering couples to wedding related websites. Kiss the Bride offers tools and resources to assist couples. Kiss the Bride also emails couples wedding articles to help them make informed choices.
Links to wedding websites
Airlie Beach, Queensland
Airlie Beach Wedding World is owned and operated by local resident, Belinda Beale, who has a wealth of contacts to help turn your fairytale dream into reality. Every detail will be arranged on your behalf including ceremony location, reception venue, celebrant, flowers, transport, cake, decorators, hair & make up, photography & video, and entertainment. With your input, Airlie Beach Wedding World will work magic and fulfil your wedding fantasy. More info....
Broome W.A.
Broome Wedding Services is a specialist wedding coordinator who can organise romantic weddings on Cable Beach or any other unique Kimberley location. They allow you to relax and enjoy a casual stress-free wedding day.
Whether you want to elope for a beach wedding or share a more traditional day with your family and friends at one of the many Broome reception venues, set in tropical gardens – they can organise all the details. More info....
Gold Coast, Queensland
Choose from a beach, church, garden or mountain wedding. More info....
Hamilton Island, Whitsundays, Queensland
Hamilton Island Weddings is Australia's most unique and exclusive wedding company. Established in 1992 and managed by the current owners since 1994, Hamilton Island Weddings prides itself on providing the ultimate location, facilities and services to host one of the most important days of your life. There is no requests too large or too small and Hamilton Island Weddings endeavours to keep as many services as possible "In House", we believe by doing this we can control the quality and level of service that our clients receive. More info....
Magnetic Island, Queensland
An ideal location with 300+ days of sunshine per year, 23 beaches and bays and a local resident celebrant. Contact him via email
David Crusty Herron

Magnetic Island Wedding Celebrant, David Crusty Herron has the experience of over 1500 Weddings & Ceremonies on Amazing Magnetic Island & around Australia to make your island wedding day just perfect. Your marriage ceremony and marriage vows will be written just for you. After all; It's your Magnetic Island Wedding. Do it your way with David Crusty Herron.

David Crusty Herron
Unit 1/55 Barbarra Street
Magnetic Island Q4819
AUSTRALIA
Melbourne, Victoria
Wishfulweddings can organize your wedding here, even your hens night! More info...
Mission Beach, Queensland

What a wedding venue!
With their experience in planning over 100 Weddings in Far North Queensland, Beach Weddings will co-ordinate any part of your day from beginning to end or anything in between. For a free, no obligation consultation, email antony@beachweddings.com.au , they will determine your requirements then follow up with an estimate of the cost involved. You may only need help with a location or accommodation or decoration; you might need them to assist in planning the lot. Whichever way you require, they are the on the spot support network working to ensure you receive the services you desire. Visit their website for more info...
Noosa, Queensland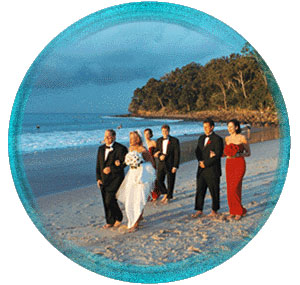 Noosa is renowned as one of the world's most beautiful holiday destinations and currently stands at number 10 in the world as a perfect wedding location. With Noosa boasting some of the most exquisite beaches in the world, it is no surprise that many couples choose to have their ceremony on the sand and their reception at a local restaurant. More info....
Perth, Western Australia
Hospitality Accessories and Weddings pride themselves on the fact they travel all over Western Australia creating beautiful weddings in some of the most obscure locations, whatever your ideas, they can do it - or you can hire you the items to do your own thing! More info...

Sydney, New South Wales
Marriage celebrant Coral Kortlepel offers many different kinds of wedding ceremonies from simple, formal, informal, romantic, candle and spiritual. Coral helps and advises on many other aspects of your day, assisting you in choosing the very best in cakes, flowers, photography, music, invitations etc.
In 1998, 2000,2001, 2002 and 2003 she was chosen Marriage Celebrant of the Year out of 8 finalists at the Bridal Industry Awards for Excellence that are held annually through out Sydney and all of New South Wales. Newly weds are asked to vote for someone who they felt has contributed to making their day very special. More info....
For an unforgettable wedding on the water in Sydney see Skippers Afloat.
Elaine Searle - Sydney based marriage celebrant who conducts many weddings for overseas visitors to Australia
Functions By Susan is based in Ingleburn, NSW,and covers the Illawarra, Macarthur & Nepean Regions, their office is located at Bradbury.

Tasmania
There are over 3000 weddings in Tasmania each year, and over the past 3 years The Wedding Planner has made a name for itself by taking the hassle out of wedding and putting the fun back in. More info....
Legal wedding requirements
Main requirement is that one person has to be male, and one person has to be female, you can not be of the same sex. The government of Canberra wanted to allow same sex marriages in 1996 but the Federal Government overruled them and barred it. If you are a British citizen you can also marry a same sex partner at your embassy or consulate. Apart from this technicality legal marriage requirements in Australia are no worries! As long as you organize the paperwork before you leave home, you can literally marry in Australia any time , anywhere. Australian law requires that all marriage papers are lodged no less than 31 days before the wedding day. What you need is : Notice Of Intended Marriage Form - available from any Australian Embassy or Consulate around the world. Ask the Consulate to send you the blue 'Notice of Intended Marriage Form'. Once you have this form, fill it out and have it witnessed by an Australian Consulate official or a public notary, or other recognised official as specified on the back of the form. This document has to be signed and lodged with your Australian weddingcoordinator not less than 31 days before the wedding and not more than six months before the wedding ceremony. You'll also need copies of both Birth Certificates.
If this is not the first wedding for either or both of the couple, evidence must be shown how the previous marriage(s) ended, Such as, copies of Divorce Papers or Absolute Decree , if applicable, or copy of a Death Certificate .
If your name has been changed by deed poll - show legal proof.

To have and to hold...
Do you know of (or have had) an amazing Australian wedding?
Are you a celebrant or in the wedding business and would like to be on this page?
Then contact us !