Amazing Australian Inventions

Aussie inventor Terry Bediavas and his ingenious revolutionary locust muncher invention
Australians have invented quite a few things over the years.
Below is an interesting selection of some brilliant Australian inventions;
Aeroguard
CSIRO invented Aerogard to keep flies off cattle and prevent diseases. As well as being a summer essential, the product was used by the Queen when she visited Australia in 1963.
Air engine
Angelo Di Pietro from Melbourne has built the world's first commercially-viable motor vehicle that runs on compressed air and drives a rotary engine. His invention is being tested in Melbourne's parks and gardens over the next 12 months and has got up to speeds of 50 km/h. Engineair, the company that Angelo works for, says their invention produces absolutely no pollutants and is extremely efficient having only two moving parts.
Aspro
An aspirin based painkiller that was invented by Melbourne pharmacist George Nicholas in 1917.
Backless briefs
The backless brief was invented on Australia's Gold Coast in 2003.
When the ingenious inventor had a problem with her G-string showing she asked other women for advice as she could not see their G-strings poking out. She was shocked to hear they were not wearing any underwear at all and she started work on her project of inventing underwear that does not stick out of your pants.
It took 50 prototypes until she ended up with a design that replaces the back with two bra-style straps under the bottom that is guaranteed not to move and stay in place.
The ingenious backless brief featured on ABC TV's The New Inventor program in 2005 and is now patented in no less than 123 countries around the world.
Bionic Ears
Melbourne University professor made history in 1978 by inventing the world's first bionic ear.
Black box
Dr. David Warren from Melbourne invented the first black box flight recorder in 1958.
Boomerang
World famous hunting implement invented thousands of years ago by Aborigines and now seen as standard item in all the souvenir shops, often not so authentic made of plywood.
In March 2008 a Japanese astronaut hurled one in to space and much to his surprise it came back pretty well the same as on earth!
Cocotap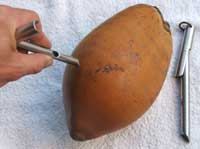 Coconuts make a great refreshing drink but it can be hard work getting in to them, luckily some ingenious Aussie has invented the Cocotap pictured above which makes life a lot easier. We have tried it ourselves and indeed, ten seconds and you got yourself a drink! They reckon it can also be used to dehusk a mature coconut, as a coconut harvesting gaff hook, to crack into a crab claw, a tent peg extractor, untie a knot, splice a rope, or cut a line, as a grappling hook, a leatherwork tool, for carving anything, digging gem stones, even playing slide guitar.
Order the cocotap online from www.cocotap.com
Cork hat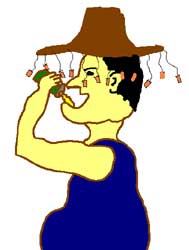 Used in areas where the flies are that bad that continuously waving ones arms around ( also known as the Australian salute) just gets too exhausting. Not sure where the corks are found as the wearers of such hats would usually not touch anything else than beer and even if they did drink wine it would more likely be the cask variety like Chateau Migraine than a decent bottle with a real cork.
Cow fan

Australian cow fan
During summer temperatures in Australia can soar into the fifties, too hot for most European farm animals. Luckily the ever ingenious Australian farmers have come up with a solution to cool their cows!
Actually, we're just kidding, we borrowed this from the bullshit page.
Didgeridoo

Invented many years ago by the Australian Aborigines, it was used at ceremonies and nowadays is on sale everywhere tourists go. It takes some skill to play this instrument and in many tourist places you can get lessons to play this.
Traditionally made from hardwood trees that had been hollowed out by termites, but nowadays also from bamboo or even PVC.
Drizabone
The "Drizabone" is the traditional Australian stockman's oilskin riding coat and is part of Australia's history. It was adopted by the early Australian settlers from the wet weather gear worn by the sailors on the windjammers to protect themselves from the fierce weather of the Roaring Forties. There have been certain improvements along the way, but the essential style of the coat, and its famous durability, have made it a legend.
Drizadog
The "Drizabone" is the traditional Australian stockman's oilskin riding coat and is part of Australia's history. It was adopted by the early Australian settlers from the wet weather gear worn by the sailors on the windjammers to protect themselves from the fierce weather of the Roaring Forties. Nowadays you can even buy a smaller version for your dog, buy it at Australiana-design.com.au
Esky

The Aussie esky
Portable insulated box to carry beer around while keeping it cold, invented in the 1950s, originally of metal and later of plastic, can also be used to sit on. Standard equipment in any Australian household. In USA known as cooler or in New Zealund known as chully bun.
Gramajica

Commander Grah of the Interstellar Space Mission
In late 2004 an ad appeared in the newspaper Mossman Gazette in which the invention of the Gramajica was announced to the world. The inventor, Commander Grah, Lord of Saviour, Commander In Chief of the Interstellar Space Mission, brought the good news to the world that he had invented theGramajica, which works on the perpetual motion principle, and will save the planet with unlimited clean energy, this energy being called "Saviour".
Your webmaster, ever alert to Aussie ingenuity, was keen to find out more so wrote to the Commander and received an invite to visit the Interstellar Space Mission, located at 100 Mowbray River Road, near Port Douglas, north Queensland.
| | |
| --- | --- |
| Due to a long overseas trip I was not able to visit him until mid 2005, but on return to Australia found in my postbox the next stage of Commander Grah's world saving efforts, the First Manual of the Interstellar Space Mission which announced he had contructed the Spaceship Butterfly, the fastest ship ever, with free onboard drinks, that measured 100 metres in height. | |
I decided I had to learn more about how Commander Grah was going to save the world so headed for Mowbray River Road but I could not locate number 100, nor could I see the Spaceship Butterfly, which I had expected to be visible from the road being 100 metres high, (later Commander Grah explained to me that, as he did not expect me that day, he had not opened the interdimensional shields outside his property, so no wonder I could not find him!)
Not much later another letter from the Commander arrived, this time with a map, and the comforting news that this time the interdimensional shields would be opened.
Thanks to this helpful gesture I managed to locate nr. 100 without any worries on my next attempt and was welcomed by Commander Grah in to the headquarters of the Interstellar Space Mission.
| | |
| --- | --- |
| Above: The headquarters of the Interstellar Space Mission where our meeting took place | |
I was somewhat disappointed that there was no equipment or spaceship for me to admire and photograph, but the Commander explained to me that they were still in design stage, but he was only one component short before he could proceed with construction of working prototypes, all he needed was someone to contribute a rocket in which the fuel never runs out, and the Gramajica and the spaceship that is powered by this, could be built. Once built the Gramajica would be enclosed in a casing so nobody could see how this energy source worked, as otherwise rogue nations could use it for evil purposes, in the same manner as nuclear energy had been used for bombs. To avoid this the Gramajica would only be available for rent (not for sale) in an enclosed casing, to be returned to the factory if it had come to the end of its lifespan.
| | |
| --- | --- |
| The entrance to the Engineering Department of the Interstellar Space Mission, guarded by dog Skamper. | Inside the Engineering Department of the Interstellar Space Mission, note the heavy duty drill press and piles of blue prints and technical documents in the foreground. |
| This potentio meter was designed and built on site by Commander Grah, and is a crucial part in electric motorcycles. | The Interstellar Space Mission is a legitimate registered business as the certificates on the wall of the Engineering Department prove. |
Commander Grah continued to tell me how hard his one-man fight to save the world is, as he gets absolutely no co-operation from the authorities. He had made a hundred copies of the Interstellar Space Mission Manual and had sent them to John Howard and other ministers, to George Bush, to NASA etc. and not one of them had bothered to reply! Not even greenie minister Bob Brown had been in touch with him to learn more about the clean energy of the Gramajica!!! He shook his head in disbelief at the lack of interest. He also told me that not long ago he had wanted to get a Mazda van on the road to organize some transport for him and his future followers to get around but it needed some work done. He placed a $60.- ad in the Mossman Gazette requesting quotes from competent petrol mechanics to flush out the fuel lines on the van. Mechanics keen to make some money here could send in their written quotations to Lord of Saviour, Interstellar Space Mission, 100 Mowbray RIver Road, but would you believe it, not one mechanic bothered to send in a quote!! To make matters worse, the editor at the Mossman Gazette also desecrated the flag of the Interstellar Space Mission by cutting off the edges in this ad, and would not even consider a refund on the costs of the ad to compensate Commander Grah for this!

Above: the flag of the Interstellar Space Mission,
that was desecrated by the Mossman Gazette,
proudly hangs in the Mission's Head Quarters.
As you can see, with so much ignorance in the world Commander Grah needs help!
If you are interested in saving the world with unlimited perpetual motion energy, or would like a trip on the Starship Butterfly, or own a rocket in which the fuel never runs out that you can contribute to this mission, please write to;
Commander Grah
Lord of Saviour
Interstellar Space Mission
100 Mowbray River Road
Port Douglas 4871
Queensland
Australia
Click here to read the full text of the First Manual of the Interstellar Space Mission
Hills Hoist

Intended for drying laundry, but makes a great toy too
Adelaide car mechanic Lance Hill had a brilliant idea in 1946 and came up with a clothes line that was so practical and user friendly that every Australian wanted one and in the next 50 years his factory produced one million of them and made him a multi-millionaire. Next to the barbeque this is standard equipment for every Aussie back yard.
As you see above, it is a multi purpose household item too!
Life Savers reel
To help life savers get back to shore after reaching their rescuee Bondi Life Savers Club captain Lyster Ormsby in 1907 invented a large reel from which a rope ran out that attached to the life saver with a belt. This has helped them save at least 400 000 people in the nearly one century since starting the club.
Locust Muncher

Terry Bediavas is a farmer in Paringa, South Australia, and when locusts swarmed down in plague proportions to eat his crop he put his brain in to gear and invented the locust muncher pictured above.
It works on the same principle as birds getting sucked into jet engines and shreds the locusts into pieces and eliminates them without any chemicals. See the machine in action on the Youtube video below...
Long life plastic bag
In 1993 two Melbourne engineers invented this plastic bag that filters out ethylene and keeps vegetables fresh for a long time.
Lutec

Photo by www.lutec.com.au
John Christie and Lou Brits next to the machine that will change the world as we know it
Two Cairns inventors, John Christie and Lou Brits, have regularly made headlines in their local newspaper, the Cairns Post, because they have solved the world's energy and pollution problems. The machine pictured above will, once kickstarted from a battery, produce 1000 watts of DC electricity twenty four hours a day, every day, which will be stored in a battery bank and then inverted to AC power and connected directly into the home or business, all this without ever needing extra fuel.
To make things even better, the batteries will last ten years and the magnets that are responsible for the generation will have an effective life of one thousand three hundred years. Read more about it on their website www.lutec.com.au

Photo by www.skeptics.com.au
The award John Christie and Lou Brits received for their efforts to save the world
So far they have not received a Nobel Prize yet but they have been awarded the 2001 Skeptics Bent Spoon award (presented to the "perpetrator of the most preposterous piece of pseudoscientific piffle") at the Australian Skeptics National Convention in Brisbane on November 10, 2001. The Skeptics Society's engineer, Ian Bryce, concluded that their generator, claimed to produce 30 times more output than input, and slated to solve the world's energy crisis, actually has an output 33% of its input. More info on the website of the Australian Skeptics Society.
Meat-flavored water
Inventor Andrew Larkey started marketing meat and vegetable flavored bottled water to canine connoisseurs in december 2003. It's like a sports drink for dogs he said and put his Dog Plus K-9 Water on sale across Australia in flavors ranging from bacon and beef to liver, chicken and corn. A 600ml bottle will set you back $2.95
Meatpie with in-built sauce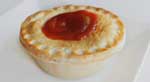 In the late 1990s a Brisbane meatpie manufacturer announced the invention of the pie with in-built sauce, althought the first reactions were ecstatic, ignoring the fact that the sauce was now also hot, it does not appear to have taken off much after that.
It is not clear who actually invented this Australian icon though the meat pie has been around for about 150 years.
No dump blocking plate
Andrew McDonald and Doug Grevett worked on building sites and became increasingly annoyed with workers that needed a toilet and just used any toilet they could find, regardless of the fact of whether the plumber had already been around to actually connect the toilet to the building's plumbing system. As you can imagine hooking toilets and pipes that are already filled with shit is not a very pleasant job, not to mention the health risks involved. It became an obsession for them and they invented the no dump blocking plate which sits over the toilet bowl to stop anyone using it before it's been plumbed in. The plate is made of steel and is fitted to the inside rim of the toilet bowl using rotating brackets. The plate is held on to the brackets using tamper-proof screws.
Pace maker
A Sydney doctor invented the original heart pacemaker in 1926.
Panel van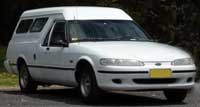 A car like a station wagon but with the rear part being just a bit higher and often without windows it made it a very practical vehicle for tradesmen to throw all the tools and stuff in and also became the vehicle of choice for hoons, usually with big V8 engines and wide tires. As there was plenty of room for a mattress in the back teenagers found the panelvan offered a hundred times more privacy and comfort than a backseat in a normal car and the panelvan developed a few nick names like 'sinbin' and 'shaggawagon' and was often decorated with a sticker announcing 'if this van is rockin', don't bother knockin'.
Peptech
An Australian company has invented a contraceptive to save your dog the traumatic trip to the vet to remove the vital bits. This newly developed product involves inserting a small pellet under the skin between the dog's shoulders that sends a signal to the brain which stops the supply of testosterone to the testicles.
This will cause a loss of sex drive for the dog with the option of reversing the operation if you later decide you would like your dog to breed. More info...
Pheromone spray
Melbourne company Acrux has developed a spray that has shown to significantly improve younger women's sexual enjoyment and satisfaction. So far the spray has been tested on 261 premenopausal women aged 35-45 across Australia who had a low libido and testosterone levels who had to record all sexual events along with the level of satisfaction during a 16-week study. On average they reported two more satisfactory sexual experiences a month than before taking the hormone.
And in 2010 they reported that they will sell the world's first armpit testosterone lotion for men in American stores next year after receiving approval from the US Food and Drug Administration.
Redback spider anti-venom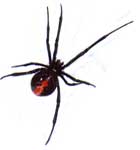 Dr Saul Weiner developed this and first started treating people with it in 1956, since then nobody in Australia has died from redback spider bites.
Streaking
In April 1974 Australian former accountant Michael O'Brien invented streaking and introduced it to the world at Twickenham, U.K. on a chilly April afternoon when he interrupted a match between France and England. Since then his invention has been copied by numerous people, for instance 24 year old Erica Roe, who proudly paraded her 40DD assets in 1982 when Australia played England in a rugby Test and Sheila Nicholls who performed cartwheels across the pitch wearing nothing more than a grin during a 1989 Ashes Test between England and Australia. Mark Roberts is a veteran who has, at the time of writing this, done 273 runs but is currently waiting to see how much his run at the American Superbowl is going to cost him. Virtually every sport has seen its share of streaker action by now, even the boring old oldies sport of lawn bowls. Enterprising individual Brett Mutton ran onto the field during the Bledisloe Cup in 2002 with Vodafone painted on his body. Vodafone denied all knowledge or approval of this ( though quietly they must have been over the moon with this free publicity) and Brett Mutton himself was real pissed off when a Sydney court fined him $3500.- for this stunt.
Stubby cooler
Australia is a hot country and Australians always need to have their beer icy cold. Despite drinking their beer pretty quick most the time, they still found that the last bit became too warm so something was needed insulate the precious beer from the surrounding environment. So much to the delight of Aussies the stubby cooler was invented, it is made of either styrofoam or wetsuit material, the latter being the choice of serious drinkers as it easily folds up into your pocket so can be carried anywhere and be ready for action in a split second. Another amazing fact is that many Aussies manage to hang on to their favourite cooler for years and even when waking up in the morning and not being able to remember how they got home, the stubbycooler is always there next to the bed! Nowadays stubby coolers are sold in all tourist places with various prints making them a very practical souvenir.
Swag
Canvas bedroll, previously carried on the shoulder but nowadays seen tied on the back of utes and roofracks. Simply the best way to sleep under the magnificent Aussie stars. When treated right the canvas remains waterproof and you can even sleep out in the rain. Pictured above is the traditional model but nowadays many improvements have been made, modern swags have a bit of framework like a tent to give you more space and screens to keep the mozzies out. See more models or buy one online at Rangercamping.com.au . The song Waltzing Matilda was inspired on the swag, the dancing around of the swag hanging over your shoulder as you walk the Aussie bush was called ' waltzing Matilda'. Many Aussies wanted this song as the National Anthem, as the song is basically about a sheep thief it would have been suitable to represent a nation that grew out of prisoners and thiefs.
Ugg boots
A brilliant Aussie invention to keep your feet warm, it started off in Byron Bay where surfies used them to keep their feet warm between surfs, and now they are a big hit all over the world....
Ultra sound
George Kossoff and David Robinson built the world's first ultrasound scanner in 1961 at the Commonwealth Department of Health.
Ute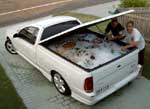 Short for utility and in other countries like the U.S. known as pick-up truck, this type of vehicle was invented in 1932 at the Ford company and is still a very popular design, especially in rural areas.
In many outback towns this is the main mode of transport for the Aborigines, unfortunately this leads to a very high roadtoll as accidents happen frequently and everytime a ute with a dozen people in the back rolls over the statistics get another boost. In the 1990s laws were introduced to ban passengers in the back of utes but in the outback where there is little police presence and often no alternative to get from A to B this has not made too much difference.
Vegemite

Invented by Fred Walker in 1923, and named through a public contest, this is a dark yeast extract made from the leftovers of beer brewing, similar to Promite and Marmite, which Aussies spread on sandwiches. It is that important to them that Australian embassies around the world frequently get calls from desperate Aussies asking where they can find the Vegemite importer in that country. I have even heard Aussie embassy staff talking about flying Vegemite in inside the diplomatic bags. Some people have even been known to drink it, dissolved in a glass of hot water. Newcomers to Australia are unlikely to enjoy this powerful tasting stuff and usually have only one try, pull some funny faces and then never touch it again, it tastes very salty, even though the salt content has been reduced from 10 to 8 percent. In 1935 U.S. based Kraft Cheese bought Vegemite so this Australian icon is not even Australian owned anymore.
You can even cook with it to produce some real Aussie tucker, click here for some recipes....
In 2009 Kraft came up with the idea to start producing a blend of Vegemite and Kraft cheese, supposedly easier to spread and milder in taste than the original. A competition was held for the public to come up with a name for the new stuff which was won by 27 year old West Australian web designer Dean Robbins who came up with the name iSnack 2.0 , Dean was beside himself with pride and thought he'd go down in Australian history as the one who named the new icon, but only four days later, long before statues of Dean could be built or his face placed on stamps and coins, Kraft announced that nobody liked the name and they're going to choose a new one. Once again the help of the public is requested, this time to choose a name from a shortlist of six; Cheesybite, Creamymate, Smooth, Snackmate, Vegemate and Vegemild.
Latest news flash 07/10/2009; the new name is Cheesybite!
Viagra oysters
Oysters have long been known as an aphrodisiac, but NSW oyster farmer George May thought he could do better and started lacing his oysters with Viagra hoping for lucrative markets in Asia where many men are obsessed with all sorts of ways to increase their virility. ( To the point where they will drink urine from tigers and rhinoceros for perceived benefits.)
Unfortunately, no matter how good the idea may have sounded, there are always a few whingers out there, and so the NSW Food Safety authority says it is illegal and breaches the NSW Food Act and also Pfizer was not happy with their trademarked name being used in this way and threatened with legal action, but George reckons that countries outside Australia have different regulations so even if they are illegal in Australia he can still sell them overseas, and change the name to get Pfizer off his back.
Victa mower
The great Aussie lawnmower, invented in 1952 in Sydney by Victor Richardson, he first started building them in his shed in the backyard but nowadays around six million Aussies are estimated to be using one.
WIFI
A group of five CSIRO scientists invented LAN technology, otherwise known as WiFi, which is used in more than five billion devices globally and has earned more than $430 million in royalties alone.
Wine cask
In 1967 Thomas Angove came up with an alternative to the wine bottle; a plastic bag inside a cardboard box and a tap instead off a cork so you have no worries looking for a corkscrew. A hugely popular invention. Can also be recylced into a pillow when you are finished with the wine, simply place your mouth around the tap and inflate to desired size. Tip; to get the last bit of wine out of the cask rip open box, take out bag, inflate a little by blowing air in, and then pour wine out.
Do you know of (or made) some amazing Australian invention? Then contact us!