Amazing Australian Islands
Looking back at Magnetic Island
With a coastline of 26735 km it is no wonder that Australia also has many islands, 600 of them in the Great Barrier Reef alone, and many islands are of spectacular beauty.
This page is still in an early stage and you are invited to send in photos and content on your favourite island.


Life's not bad on an island!
Bedarra Island
Bedarra Island is located just off the tropical coast of sunny Queensland, approximately half way between Cairns & Townsville.
The resort is currently being rebuilt after being destroyed in cyclone Yasi in 2011.
Bribie Island
Bribie Island is Australia's latest tourist discovery and family holiday destination. This unspoilt island linked to the mainland by bridge offers sandy beaches, national parks and world class fishing - all just an hour's drive from Brisbane.
Christmas Island
Christmas Island is a tiny but beautiful dot in the Indian Ocean,about 2500 km north-west of Perth.
Even though it is an Australian Territory, its closest neighbour is Java, 360km away. The island used to operate as a phosphate (birdshit) mine and mountains of the stuff were shipped out as fertilizer over the years, when this started running out the next step was a casino, Indonesians used to fly in with garbage bags full of money to come and launder it there, the island became more a lot more well known when the Australian Government built facilities there to process refugees that had been intercepted at sea on their way to the Australian mainland, and the next step was tourism.
If you love nature, you will love Christmas Island! 63% of it is national park containing species of flora & fauna found nowhere else in the world, and the coastline is made up of pretty beaches, rockpools and cliffs.
The island offers some great bushwalks through its lush forests, and some good fourwheel driving as well. From November to March the surf is good and April to October is the best time for diving and snorkelling.
Probably the most noticable localwildlife is the Red Crab with over 100 million of these vivid red creatures living on the forest floor, once a year around Christmas they overrun the island in an annual migration.
Other wildlife on this island includes boobies, frigate birds, golden bosun birds and whale sharks.
Christmas Island has a unique multiciltural population of Chinese, Malay & Caucasians from the Australian mainland.
If you are looking for somewhere different, unique, tropical and without hordes of other tourists around, Christmas Island is your perfect destination.
Flying Fish Cove and Settlement are where you will find most of the shops and facilities on the island. There is also a wide range of accommodation, suitable for all budgets.
Food on the island is also good, with many excellent Chinese and Malay style restaurants.
Flights from Perth to Christmas Island...
Cocos Keeling Island
The Cocos Keeling islands consists of a group of 27 coral islands that were discovered by Captain William Keeling in 1609. They remained uninhabited until they were then annexed by the UK in 1857, and then transferred to the Australian Government in 1955.
The Cocos Keeling islands are your sterotypical paradise; clear blue skies, fine white sand beaches, coral reefs and a balmy tropical climate.
The arrival point is on West Island, the administration centre for the Cocos Islands.
Accommodation can be found on West Island in a range of prices and 'The Club' is a popular night spot.
From West Island you can hop on a ferry to Home Island, where you'll find an interesting museum and the Clunies Ross Home.
You can also do a nice trip from West Island to Direction Island by charter boat . Direction Island is a dream tropical island, with pristine beaches and turqoise waters, great for diving and windsurfing. Scuba divers are likely to see mantas, turtles and wild dolphins. Snorkeling is good in 'The Rip', which leads from the lagoon to the sea.
A bit north of the Cocos Islands, Pulu Keeling is different to the coconut plantations of the Cocos Islands. Pulu Keeling is uninhabited but home to plenty of seabirds in the Pulu Keeling National Park. The best time to go here is between October and March. Flights from Perth to Cocos Keeling Islands...
Daydream Island
Daydream Island is the closest of the Whitsunday Islands to Shute Harbour, lying just 5 kms offshore. Offering exquisite accommodation and the perfect location for guests to enjoy the wonders of this island paradise, the Daydream Resort Hotel offers 296 rooms and all of the amenities, you would expect from a Novotel hotel. The Daydream Resort Hotel is also serviced by Hamilton Island Airport and is just a 45 minute trip across the Whitsunday Passage.
Daydream Island accommodation - Daydream Island tours
Dunk Island
Dunk Island is situated off the north Queensland coast at Mission Beach, it has a resort but most of the island is National Park and you can explore it with a walking track going right around the island.
Fraser Island
Fraser Island is the largest sand island in the world, it also has pristine freshwater lakes, rainforests and the purest strain of dingoes in Australia.

4WD adventure on Fraser Island
© Australian Day Tours
Rainforest and sand don't usually go together but the World Heritage listed Fraser Island is an enigma. Fraser Island is a giant sand island famous for its dingos, wildlife, native birds, rainforests, creeks, lakes, fishing, and scenery. It attained its World Heritage Listing in December 1992 in recognition of the island's exceptional sand dune systems, its rainforests on sand and its beautiful freshwater lakes.Its natural beauty and purity will touch you like few other places can. Stroll along sandy beaches and through unique rainforest. Swim in incredible freshwater lakes. See wild dingos in their natural habitat. This is an amazing day in an amazing place! More info...
You can also spend a few days exploring this magnificent natural wonderland by 4WD and overnight at the famous eco-resort, Kingfisher Bay. More info....
Green Island

Green Island
© Big Cat Green Island Cruises
Green Island is a beautiful coral cay which enjoys world acclaim as a tropical paradise on Australia's Great Barrier Reef just 27 km. off Cairns. The island is a protected Marine National Park, readily identified by its emerald rainforest surrounded by white sandy beaches and magnificent coral reefs. The marine life includes endless varieties of colorful fish, turtles, giant clams, shells, starfish, sea anemones and much more. One way to get out there is on the Big Cat, more info...
Great Keppel Island
Great Keppel island lies off the central Queensland coast and is a haven for everyone from single travelers to families. Easily accessible from Rockhampton, Great Keppel Island can be approached via air as well as by sea.
Haggerstone Island
Haggerstone island is an incredibly private and remote and unspoiled Robinson Crusoe retreat.
Situated 600 kms north of Cairns it lies within the northern Great Barrier Reef and alongside a wild stretch of Cape York Peninsula, its unparallelled remoteness and privacy make it a popular hangout with the rich and famous, ex PM Bob Hawke is one regular visitor there.
Within a 60 km radius are thousands of reefs, from singular coral bommies to immense plateaus of living coral. The largest protected marine park in the world stretches from the coastline to beyond the outer barrier. Northwest along the coast the white sand hills of Shellbourne Bay plummet into the sea, concealing a moonscape of white sand hills, black lakes and intermittent jungle patches.
Hinchinbrook Island
Hinchinbrook Island is located in north Queensland between Townsville and Cairns, and reached from the small town of Cardwell with a water taxi. The island is a national park and has no resorts, and there are some (long) walks that you can do here. This is for the more experienced bushwalkers, it involves river crossings and biting insects can be a hazard too.
Hope Island
Hope Island off the north Queensland coast
Hope Island is located off the far north Queensland coast, a bit north of Cape Tribulation. To get to Hope Island you will need your own boat. There are actually two islands, one where you can camp (pictured above) and one covered in mangroves where you will get eaten alive by the mozzies and sandflies.
Hamilton Island
Hamilton Island is the largest inhabited island in the Whitsundays and the only island with its own airport catering for direct commercial and charter flights, otherwise you will fly in to Whitsunday Coast Airport at Prosperine, which is only a short drive from Airlie Beach. Lots of activities can be enjoyed on Hamilton Island, including fishing, helicopter rides, scuba diving, parasailing and much more. There is heaps of accommodation on the island and a good choice of restaurants.
Hamilton Island accommodation - Hamilton Island Tours
Heron Island
Covering 18 hectares, Heron Island lies on the Tropic of Capricorn, and is 72 kilometres northeast off the coast from Gladstone. This island is a true coral cay right on the Great Barrier Reef. There is a resort with modern amenities that cater to all your needs. Here you can swim straight off the beach to an endless garden of coral where the waters are literally teeming with beautifully coloured fish and marine life. Overlooking the Great Barrier Reef, the conference room here provides a unique meeting environment where delegates can enjoy the natural wonders of the coral cay in their spare time.
Hinchinbrook Island
Hinchinbrook Island is a large island covered with rainforest just off the coast off Cardwell, a bit south of Cairns. You can take a watertaxi out, do a three to four day hike through the wilderness and get picked up by your watertaxi at the other end.
Kangaroo Island

Remarkable rocks on Kangaroo Island
Photo by Rob Lapaer of Rainforest Hideaway B&B


Australian Fur Seals
© Gray Line
Kangaroo Island is the third largest island off the coast of Australia, and 21 National Parks and Conservation parks cover 30% of the island. The island is well stocked with wildlife including wallabies, goannas, koalas, sea lions, fur seals and a species of kangaroo unique to this island!
The island received its current name in 1802 when explorer Matthew Flinders named the island after all of the kangaroos that he discovered here.
You can reach Kangaroo island by sea or air, this unspoiled wilderness is home to wallabies, goannas, echidnas, koalas, kangaroos, seals and is a haven for many other marine wildlife and seabird species. There is a great day tour that will show you all the highlights of this amazing island. More info on this tour....
Or make your own way there on the ferry and take your time to explore this magnificent island.
King Island
King Island lies to the north east of Tasmania and produces beef, and dairy products as it is extremely fertile with a mild maritime climate. Native flora and fauna abound due to the isolation of the island and lack of natural predators.
King Island's climate is one of moderate temperatures with a reliable rainfall that supports an outstanding agricultural industry. However, in the infamous Roaring 40's gales, winds frequently reach over 100kms per hours.
The coastline provides habitat to a variety of species. There is great potential for the diving enthusiast with an abundant support of rock fish, crayfish and abalone. There is a Crown Reserve, approximately 30 metres wide from the high water mark that allows access to the coastline on King Island.
Lady Elliot Island
Lady Elliot Island lies 80 kilometres north east of Bundaberg, and is easily accessible daily flights that land at the island's own airstrip. A limited number of guests are allowed on the island at any one time. Lady Elliot Island is the first coral cay on the Great Barrier Reef. Step off the beach and snorkel, swim or scuba dive in the world's richest marine eco-system. A true island paradise, Lady Elliot Island is a popular destination for families and leisure groups keen to explore this rich marine eco-system located at the southern tip of the Great Barrier Reef.
Lady Elliot Island Reef Resort is the only place to stay on this island.
Lizard Island
Lizard Island is one of a kind - a work of nature's art. This island also offers the two extremes of accommodation; pay up for a luxury resort, or bring your own water, tent and sleeping bag and camp in the National Parks campground. Located right on the Great Barrier Reef. It is a private paradise with 24 powdery white beaches. During his epic voyage of 1770, Captain James Cook climbed the peak on Lizard Island to chart a course out to sea through the maze of reefs which confronted him. Today Lizard Island offers an escape of a different kind. Here you can snorkel off a secluded beach to discover a garden of giant clams, many a metre long and some reputed to be over 120 years old. And there are 23 more soft, powdery white beaches just waiting to be explored. Fly to this island from Cairns or Cooktown
The Lizard Island Research Station is also situated on this island and is a world-leading supplier of on-reef facilities for coral reef research and education. Located on the northern Great Barrier Reef (270 km north of Cairns, Queensland), the Research Station is owned and operated by the Australian Museum and is supported by the Lizard Island Reef Research Foundation and the Coral Reef and Marine Science Foundation.
Lord Howe Island
Lord Howe Island was inscribed on the World Heritage list in 1982 for its rare collection of plants, birds, marine life and exceptional natural beauty. It is one of a handful of places in the world, and one of just four island groups, to be awarded a World Heritage listing. A mere 280 people are lucky enough to call the island home, with visitor numbers restricted, by law, to just 400 at any one time.
Flying time is under 2 hours from Sydney and Brisbane, the coral waters are crystal clear, the beaches are pristine, there is no pollution, and birds and marine life abound. Best of all Lord Howe Island is never crowded.
Low Isles
Go on a reef trip to Low Isles from Port Douglas with Wave Dancer
Wave Dancer


Wavedancer
© Quicksilver

Quicksilver's 30 meter luxury sailing catamaran, 'Wavedancer', offers the excitement of big ship sailing combined with the ultimate in comfort. Let the crew pamper you in the luxurious air-conditioned lounge with its fully licensed bar, or soak up the sun and sea air under the sails on our expansive deck. 'Wavedancer' is a memorable experience from the moment you step aboard. They will take you to Low Isles which is situated 15 kilometers north-east of Port Douglas. Low Isles is a 4 acre coral cay surrounded by 55 acres of reef. The corals are very close to the island, which makes snorkeling an enjoyable experience. The two small islands are separate with one common reef. The larger of the two, Woody Island, is uninhabited except for a large bird population. The smaller of the Low Isles is a coral cay with a lighthouse that has been operating since 1878.
More info....
Magnetic Island (Maggie)
View from Townsville out to Magnetic Island
Magnetic Island is located 8 kilometres off the coast of Townsville, and only a 20 minute ferry ride away. Magnetic Island offers a relaxed tropical lifestyle, quiet secluded bays with pristine beaches, and abundant wildlife. Here you can see koalas and at night you'll hear the curlews.
Magnetic Island combines untouched National Park, a resident population of about 2,500 and a wide choice of accommodation.
Although it is near the Wet Tropics, the Townsville area is in a rain shadow which makes it the sunniest city on the Queensland coast (Magnetic Island counts an average of more than 320 days of sunshine per year).
More than half of the Island's 5,184 hectares is The National Park covers more than half of the island, with Mt.Cook in the centre rising to 497 metres. Huge granite boulders, tall Hoop pines, eucalypt forest, pristine beaches and small patches of rainforest make up the landscape.
Magnetic Island accommodation and tours
Norfolk Island
Norfolk Island offers overwhelming scenery fringed by azure seas, this five by eight kilometre subtropical jewel offers everything in concentrate. From kaleidoscopic coral reefs filled with colourful fish to bushwalking among the planet's tallest tree ferns. This island is also the home of the famous Norfolk Pine. Many of the Islanders preserve their Pitcairn heritage and speak the distinctive traditional language passed down from the Bounty mutineers and their Tahitian wives. Cows still graze under the commonage system and goods from ships are still brought ashore in lighters, as the Island has no natural harbour. However, meeting the demands of the tourism industry has meant that a wide range of services and most modern comforts are now available.
Phillip Island
Phillip Island is the island that is not an island, it is actually connected with a bridge to the mainland and close to Melbourne.
One of the most popular things to do in Melbourne is to go and see the penguins on Philip Island. You can drive there yourself but you can also go on a guided tour to Phillip Island Nature Park to see the little fairy penguins coming home from the sea, koalas high in the treetops and the spectacle of thousands of Australian fur seals swimming and lazing in Seal Rocks.
Pumpkin Island
Pumpkin Island was one of Australia's best-kept island secrets, nestled in the Keppel Islands, 13.8 kilometres off the coast from Yeppoon, until the Aussie XXXX beer brewery leased the island for three years, making international headlines, never before has a beer had its own island!
The island contains five eco-friendly, self-catering beach cottages powered by wind and sun, overlooking a crystalline beach.
See their website for more info.
Rottnest Island (Rotto)

Snorkeling off Rottnest Island
© Australian Pinnacle Tours
Located just off the coast of Perth. A visit to Perth would not be complete without a visit to Rottnest Island, preferably with an overnight at the Rottnest Lodge. Originally a colonial barracks, the lodge has been converted to the premier accommodation destination on the island.
Walk along pristine white beaches, snorkel in aqua blue waters over colorful coral, bike around the island, enjoy an alfresco cafe lunch or just relax in the sun. More info...
Snapper Island

Photo by Rob Lapaer of Rainforest Hideaway B&B, Cape Tribulation, N.Qld.
Situated near the mouth of the Daintree river in north Queensland, it is uninhabited, surrounded by beautiful coral reefs and protected as a National Park. If you obtain a permit you can camp on the island, either get there by boat or kayak, from Cape Kimberley it is only a short trip. From Crocodylus backpackers resort they run guided seakayaking tours to this island. More info...
Stradbroke Island (Straddie)
North Stradbroke Island near Brisbane is an enticing blend of rugged coastal landscape, tranquil inland lakes, and pristine beaches just one hour from Brisbane.
One of the world's largest sand islands, it is situated at the southern end of Moreton Bay and is easily accessible by vehicle ferry ("barge") and water taxi from Cleveland.
North Stradbroke Island has some of the most spectacular scenery found in Queensland. White sandy beaches stretch into an endless horizon fringed by the aqua blue ocean, while a system of freshwater lakes in the island's centre provides beautiful picnic and swimming spots.
The three townships still have a village atmosphere but offer a range of accommodation to suit all budgets, not to mention a variety of cafés and restaurants.
Thursday Island
Thursday Island is situated about 40 km off the top of Cape York. It is a hilly island of almost 5 kilometres, and it has a multi-cultural population of 4000 who are a culturally unique group. These Torres Strait Islanders lived, fished, traded and where possible on a few islands tended vegetable gardens. They were masters of the sea and its products. The first recorded contact between Islanders and Europeans came in 1606 when the Spanish navigator, Torres, sailed through the Strait, subsequently named after him.
Tiwi Islands
The Tiwi Islands are situated 80 km north of Darwin in the Arafura Sea. There are two islands, Bathurst Island and Melville Island with a total land mass of 8320 sq km. Only a short flight from Darwin, these islands are an excellent place to experience, and learn about Aboriginal culture.
Tiwi Tours flies you out to Tiwi and Bathurst Island for one or two days - phone 1800 811633
Whitsunday Islands
The Whitsunday islands lie midway along the Queensland coast, a group of some 74 islands bordered by the Great Barrier Reef and cradled by the calm waters of the Coral Sea and a picturesque mainland of wooded peninsulas, sandy coves and welcoming holiday resorts.
A very popular destination for sailing and scubadiving, jumping off point from the mainland is Airlie Beach.
Whether you choose a skippered yacht charter or you own one of the newest Azimut Yachts for sale, the Whitsunday region offers the best sailing options in Australia.
XXXX Island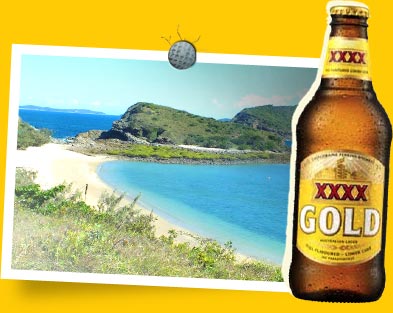 Last but not least on this page; XXXX Island! This is the first time in history that a beer has had its own island.
The XXXX brewery leased Pumpkin Island off its owners for a period of three years and blokes are invited to submit ideas to build the ultimate blokes island, and the best entries will win a stay on the island.
More info on their website.
Your favourite island not on here? Then send us some pics or content...