Amazing Australian Records
The world's longest roadtrain
Australians make up nearly a third of the more than 60,000 people who try to make or break world records every year.
Guinness World Records says that Australia is the third biggest market for their famous record book.

If you think you got what it takes to set or break a record in Australia, then go to The Australian Book Of Records website and learn what is involved in becoming a record breaker; application process, adjudication, safety, completion, verification and registration of your record attempt.
Australia's biggest baptism
Jehovah's Witnesses from all over Australia and the world came together on december 13, 2003, in Telstra Stadium to see more than 500 new brothers and sisters lie down in specially designed tubs to "take God into their hearts" and set the Australian record for biggest baptism.
Australia's biggest beer
The Darwin stubby contains a huge 2 litres of beer, and is a popular souvenir for tourists that visit Darwin in the Northern Territory.
Its origins date back to the 1950s when the small Carlton United brewery in Darwin decided to package their beer in bottles, but they proved so popular that even despite charging a deposit they hardly ever got their bottles back.

In later years Darwin Stubby drinking competitions were held in Humpty Doo, a town on the highway from Darwin to Kakadu, for many years a bull used to win (despite many complaints from the RSPCA) until several years ago he unfortunately died, and many other big bellied blokes also gave it their best to drink the massive two litre bottle in as little time as possible.
Australia's biggest blunder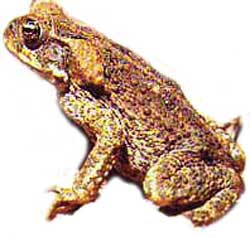 Australia nowadays has many introduced species of plants and animals, some manage to co-exist without too much impact, some create real environmental problems. Most animals were brought in by your everyday people who had no idea what the consequences would be but the canetoad would have to be the BIGGEST BLUNDER in Australia's history as in this case scientists, paid by the Australian government, went overseas to collect canetoads and returned to Australia and set about thirty of them free in North Queensland in 1933. The idea was that they would eat the beetles that were causing economic damage eating the sugarcane but unfortunately the cane toads never touched the beetles but helped themselves to everything else they could find. Wildlife smaller than them they will kill and eat, wildlife bigger than them will eat them and die from the poison they have in glands on their back. The thirty toads that were introduced initially have now multiplied into the countless millions and are spreading across Australia and have recently arrived in Kakadu, Northern Territory where it is expected they will devastate the place as there are vast floodplains which are the perfect breeding ground for them. Some birds have actually adapted and learned how to turn them over and eat their insides avoiding the poison glands on the back. Ingenious Australians have also used the toads to make wallets, stubby coolers etc. Hippies desperate for a thrill but too broke to buy drugs sometimes cut the back with poison glands off the toad, dry it in the sun and then roll it into a joint to smoke ( don't try this at home!!) Some dogs are reported to have turned into druggies by becoming addicted to "cane toad sucking", getting high on the poison.In an effort to reduce the numbers of this toad Australians sometimes also get the golfclubs out for a round of cane toad golf. Australian pubs in tourist areas often organize cane toad races where punters can buy a toad or bet on them in similar fashion to horse races.
Australia's biggest ever corporate collapse
HIH became Australia's biggest ever corporate collapse when it failed in March 2001 with liabilities of $5.3 billion. Many people lost their life savings, and with most doctors and others in the medical business being insured here the collapse also lead to a health care crisis, as suddenly they found themselves working without insurance cover. The government had to step in with temporary arrangements to avoid a country with no doctors but many in the medical profession found the new insurance schemes to expensive and stopped working or went into early retirement.
The former director, 45 year old Rodney Adler, said he had made some "stupid errors of judgment", but the judge disagreed with this terminology, cited several examples of gross misconduct, fraud and outright lies, and sentenced him to a maximum of four and a half years in jail for four crimes of dishonesty committed in his time at the failed insurer, but he will probably only do two and a half years of that. In 2002 he had already been banned from being a company director for 20 years
While he knew HIH was already going down the tubes he made false statements to obtain $2 million from HIH for his own company, Business Thinking Systems. He was the first former director to be convicted but not the last. Mid 2005 he was caught out trying to run a business from jail, disguising this as helping his kids with their homework. This led to some of his privileges being withdrawn and a promotion to toilet cleaner.
Former HIH chief Ray Williams is serving a four-year jail sentence for his role in the HIH collapse in the same jail and is also on toliet cleaning duties. Late 2005 he was also stripped of his prized Order of Australia award by Governor-General Michael Jeffery.
Australia's drunkest woman
In January 2007 a 35 year old Townsville woman was found slumped behind the wheel of her car.
She was breathalized and returned a blood-alcohol concentration of 0.446 - almost nine times the legal limit and the highest-ever recorded for a female in Australia, beating a woman who blew 0.34 on the Gold Coast the previous year. Even the National Drug and Alcohol Research Centre had never heard of such a whopping reading for a woman.
Australia's first speed skating gold medal
Steven Bradbury is the first Australian to win a Winter Olympic gold medal in speed skating, he won the 1000 m race at the 2002 Winter Olympics because all the others fell over and crashed in the last corner.
Australia's first princess
Tassie sheila Mary Donaldson went for a drink at the Slip Inn bar in Sydney during the 2000 Olympics and met a Danish prince. They hit it off that well that a couple of years later they tied the knot in Denmark where she became Australia's first woman to become a princess, and probably queen as well in a few years time.They married in Denmark in a ceremony that cost the Danish state something like $35 million and all the cars used for the wedding were Volvos, making this probably the world's biggest concentration of (bloody) Volvo drivers as well. In 2005 Mary fell preggo and a little Aussie royal ankle biter was born.
Mary holds another record and that is to be the first Aussie to have her face displayed on the Danish money.
Australia's hottest year
The year 2005 was Australia's hottest year on record. According to the Bureau of Meteorology annual climate summary, 2005 was more than one degree warmer than the average temperature between 1961 and 1990, the world standard used to track temperature change.
These figures have forced the Federal Government to defend its action on climate change and global warming. Australia and the US were at the time the only developed nations to have refused to sign the Kyoto Protocol, which calls on countries to cut greenhouse emissions by 5.2 per cent below 1990 levels by 2012. A few years later Kevin Rudd signed it when he became Prime Minister.
Australia's most complained about commercial
The Advertising Standards Bureau received more than 350 complaints about this Nando's commercial in which a stripper wiggles her bottom in the face of a man before sitting down to dinner with her family at a Nando's restaurant, but the ASB dismissed all complaints against the ads.
Australia's most expensive advertising campaign
When the GST (Goods and Services Tax) was about to be introduced the Aussie government spent $100 million in Australia's biggest advertising campaign ever to try and convince the nation of the benefits of GST and explain how it is going to work.
Australia's richest man

Australia's richest man
Kerry Packer was Australia's richest man with an estimated worth of A$7.25 billion for a while, then his son James Packer took over the record, and lost it again to West Australian mining entrepreneur Andrew "Twiggy" Forrest who became the richest man in Australia after his shares in his recently restructured Fortescue Metals Group jump 17 percent, he owns 1.023 billion shares in the company and this put his personal worth at about $8.66 billion. Of course this dropped again when the January 2008 stock market crash happened so as the share prices move they may have to take turns being Australia's richest man.
In 2010 Andrew Forrest's net worth soared by $2.71 billion, or 149 per cent, to $4.53 billion in conjunction with the stock of Mr Forrest's Fortescue Metals Group, which was boosted by rising commodity prices and China's strong demand for minerals.
But later in 2010 Westfield property tycoon Frank Lowy beat both James and Andrew when his fortune rose by $840 million to $5.04 billion and he became Australia's richest man.
2011 update:

1.Andrew Forrest, Fortescue Metals Group, $6.23b
2.Rupert Murdoch, News Corporation,$5.68b
3.James Packer, Crown and Consolidated Media Holdings,$3.60b
4.Kerry Stokes, Seven Group Holdings, $1.82b
5.Frank Lowy,Westfield Group,$1.75b
Australia's richest woman
Gina Rinehart, daughter of Lang Hancock, is Australia's richest woman. Thanks to the resources boom in 2005 the iron ore magnate's fortune more than doubled to $900 million, so she is well on her way to become the nation's first female billionaire. In 2005 she was number 20 on the list of rich Aussies.
Australia's longest stretch of straight road
The Eyre Highway that crosses the Nullarbor Plains in Western Australia has the longest stretch of straight stretch of road in Australia near Caiguna - 148 kilometres!
Beer drinking

This monument to Bob Hawke
stands in the Espanol Hotel
Bob Hawke who was Prime Minister of Australia in the 1980s was in the Guinness Book of Records for beer drinking.
In 1955 he drank 2.5 pints of beer in 11 seconds at University College, Oxford.
Biggest orgasm in the universe

Photograph from Great Barrier Reef Marine Park Authority
This is one of the terms the North Queensland scuba dive industry uses to describe the annual coral spawning where three to five nights after the full moon in November or December when the water temperature hits 28 degrees, the entire 2300 kms of Great Barrier Reef lets go of zillions and zillions of brightly colored sperm and eggs that float around for several days and fertilize eachother. Fish go into a feeding frenzy and the ocean sometimes resembles an oiltanker disaster site but all this is done to propagate new corals to ensure the survival of the Great Barrier Reef. If you find yourself in Cairns or North Queensland around this time you can witness this spectacular event as many of the reef tour operators run extra night trips.
Biggest poker win in Southern Hemisphere
23 Year old Aussie Uni student Tyron Krost is $2 million dollars richer after winning the largest prize ever awarded in a live poker tournament in the Southern Hemisphere. He beat 746 other players at win Crown Casino's 2010 Aussie Millions Poker Championship. He said he was looking for something to do that night so he joined in, and after a marathon 13 hour all night battle he walked away with a cool $2 million !!
Breast feeding
On August 1st at the "Breastfest 2002" in Adelaide 767 babies were counted breastfeeding after a hectic, frantic morning of trying to pack mothers, babies and their support people into 2 movie cinemas at Greater Union Marion Megaplex . Unfortunately 2 days later, on August 3rd 2002, Berkeley in California announced that they had a count of 1136 making them the new world record holders!
Burnouts
In May 2005 just outside Ipswich, Queensland, R.J. Brunow and his 1980 Holden Gemini with V6 engine earned a place in the Guinness Book of Records for the most doughnuts in a haze of smoke. On the concrete burnout pad at the Willowbank Motorsport Complex the burnout champion managed to completely wear out a perfectly good brand-spanking-new set of Bridgestone tyres by doing 64 doughnuts and could have done even more if his radiator hose hadn't burst.
Child sex charges
In June 2007 a 44 year old truckie from Cairns appeared in court charged with no less than 103 child sex offences. We hope the tragic truckie will be locked away for a very long time.
CSIRO
CSIRO was the organisation was the first in Australia to start using the internet, which is why their domain name is csiro.au (as opposed to csiro.org.au or csiro.com.au). It's also Australia's largest patent holder with 3582 patents, 728 inventions and 275 trademarks.
Fastest London to Sydney flight
Aviators Ross and Keith Smith were rewarded with a 10 000 pound prize by the Australian government for making the fastest London to Sydney flight ever in 1920, it took them only 27 days and 20 hours!
( This record has been broken since then).
Fastest Murray River swim
32 Year old Tammy van Wisse swam the entire length of the Murray River that runs from the Snowy Mountains of New South Wales to Adelaide in South Australia, 2438 km. in only 106 days! She battled ear and eye infections, collisions with logs, a bee sting and a close snake encounter but broke Graham Middletons record of 138 days.
First flight across the Pacific
Australian Charles Kingsford Smith made the first flight across the Pacific Ocean from California to Brisbane in 1928, later followed by a shorter one from Australia to New Zealand.
Longest jump on a Harley Davidson
Although this record was set by an American, it was done in Barangaroo in Sydney.
Freestyle legend Seth Enslow, also known as Crusty Demon, set a new world record for a long-distance jump on a Harley-Davidson motorcycle by jumping no less than 56m through the air on 1 March 2010.
And he did it twice too, because the press turned up a bit late and missed the first jump, so he did it again!
Longest Freight Train
On June 21, 2001, BHP Iron Ore had to get some iron ore from their mines at Newman and Yandi to the ship at Port Hedland in Western Australia. There was a fair bit to carry and to avoid making too many trips they assembled a 7.353 km long train consisting of 682 ore carriages which took 8 powerful diesel-electric locomotives to get things moving.
Longest roadtrain
Nowadays road trains are limited to three trailers or in special cases in very remote areas four trailers, but one roadtrain that set a record was no less than 1018 metres long, counted 79 trailers and weighed 1,072 tonnes. It was driven for a distance of 8 km by a Kenworth C501T truck driven by Aussie truckie Steven Matthews, near the gold mining town of Kalgoorlie, Western Australia on October 19 , 2000.
This record was broken on March 29 2003 at Mungindi, Queensland with a roadtrain of 87 trailers measuring 1235.3 metres!
On October 16 2004 that record was broken again with a roadtrain of 117 trailers measuring aproximately 1450 metres but this was only accepted for 36 hours by Guiness Book of Records as official.
| | |
| --- | --- |
| | |
The latest record was set on 18th February 2006 by Brisbane truckie John Atkinson with his Mack Titan truck.
After a six hour job of assembling 113 trailers into a 1,474.3 metre long road train in 38 degree heat on a closed stretch of highway outside Clifton, Queensland, John got in his truck and drove his way into the Guinness Book of World Records. He did 140 metre in 50 seconds with nearly one-and-a-half kilometres of truck weighing more than 1300 tonnes!
Marble playing
Michael Gray, 45, and daughter Jenna, 17, are the marble world champions after they played marbles for 26 hours in February 2006 at The Rocks in Sydney. They raised about $5000 for indigenous health through the Fred Hollows Foundation and got their names in the Guinness Book of Records.
Most flights in one day

Ron Watts and his plane
On May 7 in 2011, Aussie pilot Ron Watts managed to take off and land his plane no less than 102 times in one day.
More info on this Aussie record on his website.
Most jokes told in an hour
Anthony Lehmann made it in to the Guinness Book Of Records when he told 549 jokes in one hour at the Rhino Room club, Adelaide, South Australia on 25 May 2005.
Most pets
Australia has the highest incidence of pet ownership in the world, with 64 per cent of the nation's households owning pets.
Most spiders on your body

A Golden Orb Weaver Spider
Tom Buchanan laid in a clear perspex box and had 125 Golden Orb Spiders put onto his body for 55 seconds during the 'Australia: Guinness World Records' TV show in Sydney, New South Wales on 27 August 2005
Click here to see him get covered in spiders and set the record.
Most suburbs walked

Though it was never officially recorded by any records authority I am confident that Alan Waddell holds the record for most suburbs walked. This 90 year old has walked 2000 kms through every street of 135 Sydney suburbs and you can see it all on his website Walksydneystreets.net .
Most superheroes in one place
No less than 1245 people dressed up as super heroes such as Batman, Robin, Spiderman and WOnderwoman got together at Federation Square in Melbourne in May 2010, and broke the record previously held by the UK.
Queensland's highest pub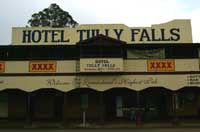 The Tully Falls Hotel, in the town of Ravenshoe in the Atherton Tablelands west of Cairns, is Queensland's highest pub, at an elevation of 916 metres.
Sheep shearing
In 1979 Australian sheep shearer David Ryan sheared 500 lambs in 7 hours and 46 minutes.
Sky diving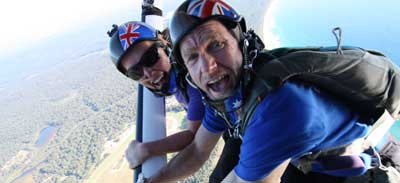 Australian Champion parachutists Jules McConnel and Michael Vaughan, and now join Australian record holders, completed 150 skydives each, having broken the existing 18 year old record of 100 skydives in 24 hours. This incredible feat took 11 hours of non-stop jumping from 5.20am – 4.30pm, and a massive team of volunteers and sponsors.
They would exit at 2000 feet, they land before the plane, drop their gear, pick up another parachute and hop into the other plane and repeat... On jump number 150 though, there were 3 aircraft and 12 parachutes in the air as the volunteers were invited to join Michael and Jules for their final jump.
The crowd on ground was eagerly awaiting our high achievers' landings and then there were hugs and cheers all 'round, followed by a ceremony where Official Judge, Craig Bennett, awarded Michael and Jules with certificates of achievement and they were congratulated by the Westpac Rescure Life Saver Helicopter team, who will benefit from their fundraising for the event.
More info on their website.
Solo sail around the world
16 year old Jessica Watson set off in her sailingboat from Sydney in October 2009 and, at an age where a lot of girls are not even allowed to spend a night away from home without supervision, she sailed around the world non-stop and unassisted, which was a world record at the time.
She had a rough start when on her way to the starting point Sydney she ran into a Chinese freight ship in the night and many people tried to stop her from going. However, she continued and became the youngest person to sail solo around the world, until 16 year olf Dutch girl Laura Dekker finished her solo circumnavigation in January 2012 and took over the record.
Sword swallowing
31 Year old Chayne Hultgren from Byron Bay has successfully swallowed no less than 18 swords each measuring 72 centimetres in Sydney in February 2010 and made the Guiness Book of Records.
Tuna tossing
In 1998 former Olympic hammer thrower Sean Carlin proved himself a super tosser at the annual tuna tossing competition in Port Lincoln, South Australia, by tossing the tuna a whopping 37.23m!!!!!!!!!
Wettest town in Australia

Photo by Katrin Holmsten
Tully's claim to fame is being declared officially the wettest town in Australia with an annual rainfall of up to seven metres. Gum boots are the most practical footwear in wet conditions like this and one of the town's main tourist attractions is the Big Gumboot, and they also hold an annual Gumboot Festival.
Tully is about an hour south of Cairns on the way to Mission Beach.
World's best resort

The world's best resort in 2012
Hamilton Island's Qualia Resort, on the Great Barrier Reef, beat hotels in exotic locations such as the Maldives and Bora Bora to score the top honour in the 2012 Conde Nast Traveler Readers' Choice Awards in 2012.

World's biggest barramundi
The world's largest recorded barramundi was caught by Dave Powell in Lake Tinaroo in September 1999.

The whopper of a fish measured 124 centimetres and weighed 38.75 kg.

Lake Tinaroo is located in the Atherton Tablelands behind Cairns and is three quarters the size of Sydney Harbour and some believe that there are even bigger barra than the one pictured to the right still swimming around in this lake.

You can try your luck with one of the local fishing charter boats.
World's biggest burger
If you thought the Mount Molly burger at the top of this page was big then what to think of the 95.5kg burger that Joe El-Ajouz cooked up at his cafe Ambrosia On The Spot, in Sydney's Randwick.
This burger became a world record and outdid the 84kg burger made in the US that previously held the title.
Ingredients included 81kg of mince, 120 eggs, 16 tomatoes, 120 cheese slices, 2kg of lettuce, 21kg of bread, half a litre of barbecue sauce, 24 hours of cooking and 3 months of planning.
World's biggest collector of British royal family memorabilia
Janet Williams from Woonona, near Wollongong has made the Guinness Book of World Records as the world's biggest collector of British royal family memorabilia with a collection containing more than 10,000 pieces, including commemorative cups and saucers, life-size statues, porcelain dolls, spoons and photos that she has been building up for over half a century.
World's biggest crocodile in captivity
Cassius, a 100 year olf saltwater crocodile, has lived at Marineland Melanesia on Green Island, 27km off the coast of Cairns, for close to 24 years, but in August the whopper of a croc has finall entered the Guinness Book of Records as the largest croc in the world in captivity.
Cassius was captured south of Darwin in 1984, after he attacked yet another boat, and was taken to far north Queensland in 1987. He bears the scars from his battles with other crocodiles during his younger days, and has also lost his left arm.
World's biggest rock
Australia has the world's biggest rock, and that's Uluru, right? No mate, you're wrong...
It's miles away from Uluru and it is actually Mount Augustus in outback Western Australia!
It's heaps bigger and twice the size Uluru, rising a whopping 715 metres out of the ground in the Gascoyne region, 850 kilometres north of Perth.
It is a monocline – geologists' lingo for a fold in the rock layers which were pushed up as the earth buckled about 900 million years ago. Just like an ice berg, only one third of Burringurrah is visible, and the rest is underground, so who knows, it might be even huger!
World's biggest eagle
Australia's Wedge-tailed Eagle has a wing span of up to 3 metres. This eagle, though not always this big, can often be seen on outback roads feeding on road kills.
World's biggest opal
Andamooka, South Australia, is where the 6.8 kg. 'Desert Flame' was found in 1970.
World's dumbest bird

The world's dumbest bird
Early 2005 Dr Louis Lefebvre, of Montreal's McGill University, compiled the world's first bird IQ index from 2000 recorded observations. He concluded the smartest birds were crows and falcons and the poor Australian emu ended up at the other end of the scale as the world's dumbest bird!
World's fastest job interview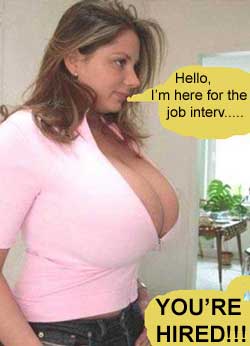 World's heaviest crab
In the Bass Strait between Tasmania and Victoria you can find crabs up to 40 centimetres across weighing 14 kg.
World's highest free fall ride
The 119metres (39 storeys) high Giant Drop at the Gold Coast's Dreamworld has been officially declared the 'tallest, vertical free-fall ride in the world' by the Guiness Book of World Records. It opened in 1998 and has carried almost two million passengers. More info....

Ride the Cyclone
© Dreamworld
World's largest oyster
On the Great Barrier Reef you can find oysters up to 3 kg.
World's largest sand island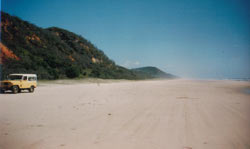 Fraser Island on the east coast of Australia is the world's largest sand island. It was World Heritage listed in 1992 and has spectacular long unspoilt beaches, rainforests, an abundance of birds dingos and has a surface area of 1630 square km.
World's longest earth worm
In Gippsland, Victoria, the earthworm Megascolides australis is found that measures up to four metres in length.
World's longest penny farthing ride
Phil Mc Donald rode a penny farthing 512km in 24 hours around Lilydale Shopping Centre , earning him a place in the Guinness Book of Records.
World's longest straight stretch of railway
From Nurina in Western Australia to Watson in South Australia, the railway line is dead straight for 478 kilometres.
World's longest underwater electricity link
The Basslink electricity cable runs 360km. from Victoria to Tasmania across Bass Strait.
World's most expensive wool
Sheep farmer Barry Walker set this record when he sold a 91 kg bale of 11.8 micron wool ( the standard for Merinos is 20) for $227,000 . He feeds his super sheep a secret diet of grains and special hay and plays Italian opera to them.
World's most venomous snake
The Inland Taipan, also known as the Fierce Snake, has the most toxic venom of all snakesin the world and can kill no less than 15000 mice with one drop of its venom, or a human adult in only 45min. You can find this snake in Central Australia.
World's oldest rainforest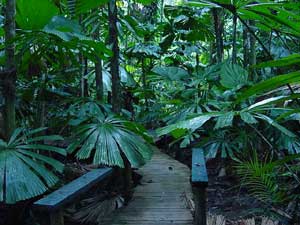 The Amazon in South America may be the world's most famous rainforest but it is only about twenty million years old, a baby compared to Australia's Daintree rainforest which is estimated to be at least 120 million years old. The Daintree rainforest was (better late than never) declared a National Park in 1981 and received its World Heritage listing in 1988. In the past people referred to it as scrub and considered it weeds blown over from New Guinea which was a nuisance as it made it hard to grow sugarcane! You can stay right inside this rainforest at Rainforest Hideaway B&B in Cape Tribulation.
World's tallest residential building
Q1 in Surfers Paradise is the world's tallest residential building and here you can stay in this superb high level 3 Bedroom + Family apartment has uninterrupted views of the Surfers Paradise skyline and beyond.
Enjoy a spacious 205m2 living area in one of the world's finest developments.
Walk to the beach or take a 5 min drive to the casino, buses at door to all theme parks.
You know of (or set) any amazing Australian records? Then contact us!