Together with his mate and colleague Todd Russel he got stuck a kilometre underground in a gold mine under Beaconsfield after an earth tremor collapsed the area where they were working. It took rescue crews two weeks to get them out, by this time they had become international celebrities as the media followed the whole rescue mission. As soon as they were out they made $2 million with an interview on Channel 9 and that is only the beginning. One of the few Tasmanians to become rich and famous without rooting a Danish prince.
In real life known as Les Hiddins, this Vietnam War veteran used to star in the world famous TV series 'Bushtucker Man' in which he forever cruised remote areas of Australia digging up stuff that, with enough cooking and preparation, would often taste a little bit like chicken. Also played a role in a stand-off between war veterans and the government where a bunch of veterans had claimed a piece of land up the Cape York peninsula to live on.
Aboriginal girl who was a star at running and gained world fame by carrying the Olympic flame to light the cauldron at the official opening ceremony of the Sydney 2000 Olympic Games, and also won gold medals during the games and the next games in Athens 2004.
In the 1980s this former television station owner and manager of the failed Qintex Group ran a booming empire, of which the results can still be seen in towns like Port Douglas, North Queensland, where he built the Sheraton hotel that kicked off the building boom in the town. Things turned sour however and after a bit of trouble with the bank he ended up skipping the country leaving many millions of dollars in debts behind. The Australian government tried to get him extradited from Spain but at every court appearance Skase arrived in a wheel chair breathing from an oxygen mask and managed to convince the Spanish judge that he was too sick to fly home. The Australian government then offered to arrange passage on a ship but he was too sick for this too. Alan Bond ( another famous character who had built an empire that left millions of dollars in debts) publicly called on Skase to come home and do his time in jail like he had done. In the end Skase ended up dying in Spain without ever having returned to Australia to face the music. The whole scenarion inspired a movie 'Let's get Skase' which told the story of frustrated creditors hiring a bounty hunter to kidnap Skase and transport him back to Australia. The movie was like a combination of 'Stripes' and James Bond and did not win any Oscars or other prizes and became somewhat irrelevant when Skase actually died before the movie was released.
In real life known as Paul Hogan, born in Sydney on 8th October, 1940, used to paint Sydney Harbour Bridge ( a never ending job as once you finish at one end after ten years it's time to start at the other again) so took up a career as a TV comedian, his Paul Hogan Show series was extremely popular in the '1970s and later he did Australian tourism commercials on US television. Most noted for his performances in the Crocodile Dundee movies where with Aussie bushman skills he managed to defeat well armed Amnerican gangsters. His classic line "That's not a knife.. THIS is a knife still llives on. Many Aussies did not appreciate him dumping the missus for blonde bomb-shell movie co-star Linda Kozlowski. Also named Australian of the Year in 1985.
In 2010 he hit the news headlines when he was detained in Australia and couldn't fly back to his house in California, because the Aussie taxdepartment wanted about $150 million in unpaid taxes from him.
After a lot of running around by his lawyers the Australian Crime Commission dropped their investigation but the ATO persisted their chase for money, (going for five years at the time of writing this) and by now Paul's reputation had been tarnished and the flow of work offers slowed down dramatically.
During a Channel Nine interview he told the world what he thought of the ATO, calling them "ego-tripping mongrels" and he said the level of public enmity against him was so high that he may as well have picked the Taliban to take on.
Originally from Latvia, Harry spent 13 years up in the north of Australia hunting crocodiles and then arrived in Coober Pedy, South Australia, to try his luck at opal mining. Like most people in this town he lives in a cave which he has adorned with his own artworks and that is now one of the prime tourist attractions of the town, attracting busloads of tourists. The cave has featured in the Mad Max movie and numerous magazines as females who jump into his bed are allowed to write their name on the ceiling of the cave and Harry is a legend as he has collected an astonishing number of names. See some photos of his place....
24 year old Melbourne boy David Hicks was looking for a bit of adventure back in 2000 and went to do a bit of military training in Afghanistan. He was enjoying himself until the Americans invaded and dragged him off to Guantanamo Bay where he spend the next eight years. When the Americans finally came to the conclusion that David was not a terrorist the Aussie Government paid over half a million dollars to fly him home in a private jet!
Dawn Fraser was Australia's greatest Olympic swimmer, she used to set countless new records and dragged away gold medals at the Melbourne Olympics in 1956 and the the Rome Olympics in 1960. Her self-confessed talent for attracting trouble and her behaviour in Rome frequently led to huge rows with sporting authorities. She might have been a brilliant swimmer but she was forever in disagreements with sports officials as she often refused to stick to any rules and used to like to party and drink as well. This got her in trouble again at the 1964 Tokyo Games. At 2.30 am after much celebrating another medal she went on a flag-souveniring expedition with a couple of friends. As they were trying to steal a Japanese flag, Japanese police arrested them at gunpoint. In an attempt to escape, Dawn jumped across a wall and injured her ankle. She was taken to the police station, but when police realised Dawn's identity, they released her in exchange for some autographs.
David Friend is an artist with a difference. In the nineties he drew a long line of curious ladies to the Sportsbar in Cairns, north Queensland, where together with Simon Morley he performed the show 'Puppetry of the Penis'. They were banned from the Cairns Civic Theatre by the Cairns City Council. Some years later they performed again for packed houses at the Convention Centre. On their recent overseas tour, US television network NBC defied protests from religious groups and allowed the original Penis puppeteers to appear on the top rating Tonight Show with Jay Leno. They describe their stage show as the ''ancient Australian art of genital origami''. The pair have entertained crowds around the world by bending their private parts into shapes similar to hamburgers, the Eiffel Tower and the Loch Ness monster. To find out more and to see when this amazing show is performing in your town visit their website Puppetryofthepenis.com
Tall girl born on March 29, 1964 in Sydney as Ealanor Gow. who started off modelling swim suits which made her a legend as "The Body" with her measurements of 36-24-35, weight of 58 kg. and 6 ft height. Elle has appeared in all varieties of bikini for her own calendars, Victoria's Secret catalogs and Sports Illustrated. She has also appeared in movies 'Sirens', 'If Lucy Fell', 'Alice', 'Batman & Robin' and 'The Edge' - where she had a small part playing Anthony Hopkin's wife. Elle has her own calender, exercise video and lingerie line called Elle MacPherson Intimates which is Australia's #1 best selling lingerie line with a yearly turnover of $30 million.
Founded The Fashion Café with fellow supermodels Claudia Schiffer, Naomi Campbell and Christy Turlington. She has graced the cover of Playboy and her face appears on the front of 8 Caribbean postage stamps. In 2000 she was estimated to be worth about $60 million. At 21 years old, she married Gilles Bensimon (French photographer and Elle magazine's creative director.) They split after Elle became a top supermodel. She has since dated Sean Penn and Tim Jeffries and has had a son, Flynn, with financer Arki Busson in 1998.
Elvis Parsley

Elvis Parsley in concert in the fruit and veg shop.
Photo by Nick Hancock of Noosa Hinterland Tours
Did Elvis really die or is he still alive? The mystery is solved, he is still alive and well and runs a fruit and veg shop in Woodford near Brisbane. Cruise into town along the main street until you see Elvis Parsley's Grapeland and pop into the shop. On demand he will change his shop outfit for the glitter suit, crank up the sound system and belt out the old favorites like Viva Las Vegies, Artichoke Hotel and Suspicious Limes.
Errol Flynn
Hobart boy who starred in movies like Robin Hood and The Charge Of The Light Brigade.
Fred Hollows

Fred Hollows (1929-1993) was a passionate ophthalmologist who became known for his work helping restore the eyesight of countless thousands of people in developing countries and his passionate plight to improve indigenous health here in Australia. It has been estimated through the initiatives of Fred, over one million people have had their sight restored around the world. He was named as Australian of the Year in 1990 in recognition of his ground-breaking work and pioneered the introduction of modern cataract surgery to developing countries, helping restore the sight of thousands each year.
Although Fred has passed away the Fred Hollows Foundation continues his work and his dream and you can help with your donation, it only takes A$25.- to restore sight to someone in a third world country, more info on the Fred Hollows Foundation's website.....
Greg Norman
Greg Norman, also known as the Great White Shark, is an Australian golf legend who plays the game that well that his personal fortune in 2006 was estimated around the $278 million! Pity that he is just about to divorce his wife Laura who might take 200 of the 278 with her.
He owns his own Gulfstream helicopter with Great White Shark emblem on the side, a mansion in Florida and a 1200ha ranch with golfcourse in Colorado, Great White Shark Enterprises that owns and operates 40 golfcourses in 12 countries and a few other little investments that generate around $50 million annually.
Karl Kruszelnicki
Well known radio identity who on the radio station Triple J had a show named' Moments in science' and used to get bombarded with the most challenging questions on every subject under the sun and always came up with an answer, also published several books explaining the most bizarre variety of subjects.
Jack Roche
English born Jack Roche had a bit of a drinking problem but managed to overcome this by converting to Islam, introduced to him by Indonesian work mates. Unfortunately this newly found religion brought him into contact with some hardline elements within the Muslim community and he ended up meeting with notorious terrorists Hambali and Osama Bin Laden, and went to training camps in Afghanistan. After his training, he was given $8000.- and given instructions back in Australia to film the Israeli embassies in Canberra and Sydney, and to gather information on Joseph Gutnick, a prominent Jewish business man in Melbourne who was known to send money to Israel. He did do the surveillance but started getting doubts. On the FBI most wanted website he had seen many faces he had met overseas and the seriousness of the situation started to worry him. He had also wasted the $8000.- he had been given to cover expenses to organize a terrorist attack. So one day in June 2000 he rang up ASIO and left them a message that he had recently returned from Afghanistan, met Osama Bin Laden, and was worried about terrorism strikes being planned in Australia. Amazingly enough there was no reply to his message, so he rang twice more but could not get a response from ASIO ( Australian Security Intelligence Office).
It took two years and the Bali bombing to spur ASIO into action and Jack, who now lived a normal life working as a teacher in Perth, woke up in the dead of night when special forces in full combat gear smashed their way in to his bedroom and arrested him, much to the surprise of his wife who knew nothing of his past. In May 2004 he was put in jail for nine years.
Jodie Moore
Jodie Moore is one of Australia's few pornstars, thanks to the Aussie government being pretty restrictive on the porn industry. She has starred in dozens of porn movies, runs her own online adult shop and even had a brief career in politics!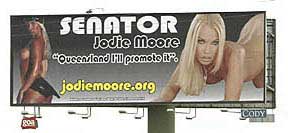 John Laws
Radio commentator who became well known for his talk back shows where people could phone in to vent their frustrations about things, later ended up being investigated for receiving huge amounts of money in the "cash for comments" scandal where he had received money for endorsing and recommending products which he was not supposed to do under current rules, it explains his Rolls Royce which is not the usual mode of transport for a radio commentator. In 2007 his famous golden microphone was stolen from his studio.
Jon Johansen
This Australian adventurer made the headlines in december 2003 by trying to fly solo around the world in a home made plane but unfortunately got some strong headwinds and used a bit more fuel than expected. He landed at McMurdo base on Antarctica which is a New Zealand/U.S.base who refused to sell him 400 litres of fuel to enable him to fly the 4300 km. back to New Zealand. Despite Australian government intervention he remained stranded there for a week until English woman Polly Vacher who also happened to be flying around that part of the world decided she could spare some fuel and the crisis was solved. You would have thought the Americans owed Australia a few favours after us helping them in Afghanistan and Iraq and could have fuelled his plane, the equally unhelpful New Zealanders were probably still pissed off about their Prime Minister Helen Clarke having been searched by security staff who did not recognize her on arrival at Sydney Airport.
Julian Assange

Aussie computer whiz that set up the world famous website Wikileaks in 2006.
He did alright with it until he started publishing a few too many documents leaked from the US militairy and then the shit hit the fan. A couple of Swedish women reported sexual assaults around the same time so Sweden wanted him extradited from England, at the time of writing this it is not clear yet if Julian can come home back to Oz or will have to make a trip to Sweden yet, he has been holed up in the Equador Embassy for about a year now with no end in sight to the saga.
Kay Cottee
Kay Cottee was the first woman to sail solo, non-stop and un-assisted around the world. She now lives on the NSW North Coast and owns a business building luxury yachts. She rose to fame when in 1988 she completed her solo circumnavigation on board the 11-metre yacht, First Lady, taking 189 days to achieve the circumnavigation. She was named Australian of the Year and made an Officer of the Order of Australia.
Kerry Packer
Kerry Packer passed away peacefully at home with his family at his bedside on Boxingday 2005 at the age of 68.
He was born on 17th December, 1937 as the son of publishing tycoon Sir Frank Packer and became Australia's richest man amassing an estimated worth of A$6.9 billion. He was also listed as the 94th richest man in the world, a pretty good effort for someone who was called "the family idiot" by his father and started working life as a printing press cleaner. When he reached the age of 65 still had no plans to retire despite frequent health scares, operations and hospital stays when he runs his empire that includes Channel Nine TV from his hospital bed. His business empire included magazines and television networks, diamond mines, petrochemicals, heavy engineering, rural properties, coalmines, ski resorts and casinos. Once his heart stopped beating for seven minutes but where some people awaken with stories of angels, white light and heavenly visions Kerry said: "I've been to the other side and there's nothing f...ing there". Over the years he survived several heart attacks and in 2000 he received a transplanted kidney donated by his helicopter pilot and friend Nicholas Ross.
He once was investigated in the 1980s by police and media and the Costigan royal commission as he attracted attention by carrying enough cash on him to buy your average Sydney waterfront house but nothing illegal was discovered, he just likes to gamble heavily and he is rich so that explained the cash, none of the suspected links to organized crime were found. Rumours say that once he won $6 million on the 1998 Melbourne Cup won by New Zealand horse, Jezabeel.
He has a son James that took control of one of his businesses late 1990s but after losing $300 million in the OneTel fiasco in only a couple of years Kerry took the reins back again.
His Channel Nine TV station was in Alan Bond's hands for a while but he repossesed it again three years later when Bondy couldn't meet repayments when things started going downhill a bit.
At a large memorial service attended by 1800 people at the Sydney Opera House, Prime Minister John Howard called him a great Australian, a larger than life character who in so many ways left his mark on the Australian community over a very long career in business. His son James made a moving speech, Russell Crowe read out a poem, and a choir and flag-waving schoolchildren belted out the cricket anthem Come on Aussie, come on. Kerry had loved sport and besides having revolutionised Australian television, he forever changed the way Australian television covered sport and the way the game of cricket was played.
His son James Packer has now taken control of his father's $11 billion media and gaming company Publishing & Broadcasting Ltd and hopefully will do better than he did with OneTel.
Kylie Minogue
Melbourne girl who started acting in the world renowned soap opera 'Neighbours' and then embarked on a career as a singer, first with songs such as 'Locomotion' but later progressed and became hugely popular in countries like the UK, both because of her ass and her voice. She was diagnosed with breast cancer in mid 2005 but after some succesful medical treatment made a full recovery, later she was reported to live on a diet of seaweed, garlic and chilli smoothies to counter balance the toxic medicines she had been taking.
In 2005 a survey was held in England asking shop staff what songs of instore music annoyed them the most and Kylie rated nr. 3, some poor shop workers suffered severe repetitive record syndrome having to listen to the same album 20 times a week! Click here for a selection of Kylie Minogue music....

Martin Bryant

On April 28 1996 this 28 year old resident of Hobart flipped out and managed to kill no less than 35 people in the tourist town of Port Arthur, Tasmania. Well equipped with several semi-automatic rifles he started the killingspree in the Broad Arrow Cafe and ended up in Sea Scape Cottage with several hostages. Police reinforcements were flown in from far and wide, negotiations continued through the night and then the next morning at 08.25 am smoke started billowing from the house and Martin ran out with his clothing on fire and was arrested. Several more bodies were found in the remains of the guest house bringing the toll of this 19 hour ordeal up to 35 men, women and children dead and another 18 wounded. People that knew him described him as a loner and a quiet lad. Also he was, due to an inheritance, a millionaire, but instead of living it up in a tropical holiday destination like he could have afforded he now spends his time behind bars serving his sentence of 35 life imprisonments (without parole) for each person killed and twenty 21 year imprisonments (also without parole) for every other person injured.
Matthew Flinders
Around the start of the 1800s mapped some of the New South Wales coast, did a circumnavigation of the continent and introduced the name Australia which we still use today.
Mel Gibson
Although born in New York he lived in Australia from the age of 12 so we can consider him an Aussie.
He made his film debut in the 1977 film Summer City, for which he was paid $400 but then gained international fame with his Mad Max movies where warriors on bizarre vehicles pursue eachother on endless chases through the Australian desert in a battle over the last remaining petrol supplies on earth, probably burning it all up in the process anyway.
Still, this impressed Hollywood enough to let him star in several Lethal Weapons movies and a string of others that all were very succesful.
He then moved on from acting and started producing and directing movies like Braveheart and The Passion of the Christ.
All great work so far but then less favourable reports started appearing in the media of his drinking habits and some pretty profane language to his partner and even police who would pull him over for drunk driving in Beverley Hills, and in March 2011 he narrowly escaped a jail sentence for battering his girlfriend Oksana Grigorieva but had to pay a fine and undergo a year of counselling.
Meter Maids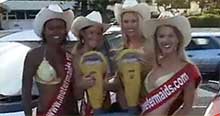 Bunch of sheilas in sexy bikinis who, paid for by a Gold Coast nightclub, cruise around the city centre looking for parking meters about to run out of money. They would then put some more coins in to save the owner of the car a parking fine.
Mike Berwick

Mike Berwick


Many Daintree residents placed
this sticker on their cars
Mike Berwick was Mayor of the Douglas Shire for 17 years until the whole council was sacked (officially called amalgamated) and the shire absorbed by Cairns Regional Council.
Too late for the residents north of the Daintree river, who suffered many years under his regime of radical town plan changes, electricity denial, building bans and restrictions and they are nowadays still left to cope without grid electricity, leading to a situation where they are all using generators which creates a lot of pollution in the Daintree.
Nicole Kidman
Sydney girl who was married to Tom Cruise for a while and starred in many movies such as To Die For, Batman Forever, Eyes Wide Shut, Cold Mountain. This proved pretty lucrative as she came in at 136 on the overall list of rich Aussies in 2005 and was the seventh wealthiest Aussie woman, owning around $190 million.. She gets paid up to $15 million per movie. Got divorced from Tom Cruise in 2001 but says she still loves him.
Pat Shears
Vietnam veteran who did such a good job patrolling as a ranger for National Parks that he got sacked! In the late 1980s the remote Cape Melville area north of Cooktown in north Queensland used to be the only place in the world where the foxtail palms grew. Some people realized the value of the seeds and every wet season they used to go up there to raid the palms and strip them of their seeds to smuggle to the States at a healthy profit. Usually national park rangers back away from heavy shit like this but Pat Shears, being a Vietnam vet, decided to enforce the law. He found barricades to a closed off section to the park knocked down and when he went to investigate he found a camp with several vehicles with guns and chainsaws. In his ususal style, barefoot, rifle at the ready, by himself and without a sound, he snuck into the camp and drove away in one of their vehicles that he impounded and delivered to Cooktown police station. This was a job well done but when they traced the rego plate the shit hit the fan! The vehicle belonged to the brother of the secretary of the Queenland Premier! Pat was sacked, received death threats, and a huge CJC inquiry was launched. In the end none of the people involved were charged and Pat had to wait for a change of government to work for national parks again! Meanwhile Four Corners TV show and many newspapers did his story, and he became the first man in Cape Tribulation to feature in Penthouse Magazine! ( With his clothes on)
Peter Allen
Singer from New South Wales who became famous in American cabaret, was married to Liza Minelli for a while and is best remembered for his song 'I still call Australia home' that many Aussies would like to see as their national anthem.
Peter Garrett
Years ago he tried unsuccesfully to get into politics in Canberra and then focussed his (considerable) energy on music and touring with his band Midnight Oil. Also was active for the Aboriginal cause and the environment as head of the Australian Conservation Foundation. In June 2004 Mark Latham, thinking he'd win green votes AND youth votes at the same time, thought it would be a good idea if Peter would join his political party, but the rest of the country, including most of his own Labor party, thought it was a really bad idea, especially when it was discovered that Peter had not even voted for the last ten years and was not even a member of the Labor party. Peter then joined the party and apologized for not having been enrolled for voting, and for singing so many songs critisizing the Americans and their army, Pine Gap can now stay. Peter also promised he'd be active in protecting the old growth forests in Tasmania from getting woodchipped for Japan.
In June 2004, when Labor leader Mark Latham was trying to appeal to the younger voters, he was made Shadow Parliamentary Secretary for Reconciliation and the Arts In June 2005.
In December 2006 Kevin Rudd, the newly-elected Labor Party leader, announced that he had given Peter the job of Shadow Minister for Climate Change, Environment & Heritage and Arts.
Greenies were delighted with Peter Garret, known for his strong views on nuclear and environmental issues, now being responsible for the environment. But much to their surprise and dismay Peter by now had softened and modified many of his previous views, the American base at Pine Gap was now OK with him, and he approved the Bell Bay Pulp Mill in the environmentally sensitive Tamar Valley in Tasmania, a controversial plan to dredge Melbourne's Port Phillip Bay, a major gas plant on a West Australian island surrounded by fragile eco systems, and a major expansion of South Australia's Beverley uranium mine, which was heavily criticized by the Australian Conservation Foundation (of which Peter once was president for ten years of his life).
Opposition members called it the Greatest Backflip In Australian History and many Midnight Oil fans were also bitterly disappointed.
On the positive side, Peter has also received several awards ranging from the Australian Humanitarian Foundation Award to a Member of the Order of Australia, and although his band Midnight Oil had split up in 2002 he regrouped with them several times for fundraising concerts for the Asian Tsunami and the Victorian bushfire appeal.

But in February 2010 the shit hit the fan with the Home Insulation Fiasco, a massive WOFTAM in which $2.5 billion dollars was spent on dodgy home insulation batts, leading to a spate of house fires and four people killed installing it, Peter got the blame for it all and was demoted.
Peter Hollingworth
Peter Hollingworth was Australia's Governor General (and former Archbishop of Brisbane), and was forced to step aside in May 2003 after a church-initiated child sex abuse inquiry found he permitted a disgraced priest to stay on. Even though he served Australians for less than two years in the vice-regal role Mr Hollingworth is entitled to an annual pension of $184,000 and he has already moved himself into a plush office in Melbourne's 101 Collins St building with an estimated rental of $100,000 a year and the bill for a staff member to run Mr Hollingworth's affairs adds another $74,821.
Australian taxpayers are forking out up to $4.9 million in pensions and entitlements for the growing club of retired Governor-Generals. ( As Australia is still officially a part of the British empire the Governor General is the link between England and Australia and the G-G is officially the most powerful person in the country, though in real life they don't actually mingle in Australia's affairs much and mainly drink lots of champagne at public official functions and cost a lot of taxpayer's money.)
Philip Nietschke
Australian doctor who became famous for his views that people who are beyond saving by medical science and who are suffering pain should be allowed to die, he pushed his views through to the point where he assisted some people to end their lives and even invented a machine that produced carbon- monoxide that people could use to end ther lives but customs officers confiscated this machine when he was on his way to a conference in the U.S. Was also involved in introducing the Northern Territory's euthanasia laws that were overturned within several weeks by Federal Government, only three terminally ill people had been able to utilize the law to end their suffering. In 2004 he launced his suicide pill and a film about a 79 year old American academic woman who was healthy but had decided she wanted to die before turning 80.
He wrote a book titled ' The Peaceful Pill Handbook ' but had his first print run confiscated at customs arriving back from the U.S. , later the Office of Film and Literature Classification cleared the book and he was allowed to print and distribute the book in Australia.
Postcard Bandit
During the 1990s Brendan Abbott traveled around Australia for years robbing banks in the days when police in different states could not yet see the point of working together so all he had to do was move from state to state to elude capture and felt that confident he even used to tease the authorities by sending them postcards. After a career spanning a decade and reportedly stealing about five million dollars he was finally captured in Darwin, N.T. in 1998 . He was sentenced to thirty years maximum security at Longland jail in Brisbane and early november 2003 went on a hungerstrike for one day claiming to be a political prisoner, he also has lawyers traveling to the U.S. to try and exploit some United Nations legislation. Later a movie, titled The Postcard Bandit, was made of his escapades, though some criticized this as romanticizing a violent criminal.
Prince Leonard and Princess Shirley of Hutt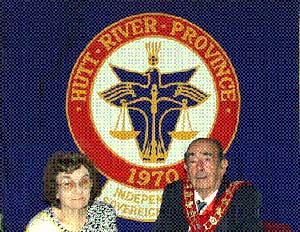 Between Kalbarri and Port Gregory in Western Australia lies the infamous 39 square mile Hutt River Province where Prince Leonard has seceded from Australia and Western Australia in 1970, renamed his wheat farm the Hutt River Province, declared himself Prince Leonard and his wife Princess Shirley of Hutt , and has started printing his own stamps. Though there is no welcome sign at the gate you can go in and visit the Prince and Princess. The Geraldton tourist info will give you a map when you go in to get your visa for Hutt River Province. You can get your passport stamped on entry.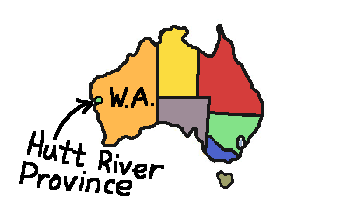 This is the story behind this independent country;
The government of Australia was worried about a huge wheat surplus in 1969 and imposed quotas on all the WA wheat growers. Mr Leonard Casley was only permitted to sell a small percentage of the 1,500 acres wheat he planted and stood to lose heaps of money. When his appeals for a higher quota kept being knocked back, he started a bit of legal investigation. An ancient English law he found says that if your livelihood is threatened by the state, you are entitled to 'secede' your land from the state. Though he had no legal experience or training turned his farm into an independent country and himself into HRH Prince Leonard. As residents of an independent country, none of the 30 or so people who live in Hutt River Province pay taxes to the government of Australia and none receive any benefits from it. There were still more disagreements between Hutt River Province and Canberra and in 1997 Hutt River Province actually declared war on Australia.
Rene Rivkin
Australian share trader who got sent to jail for insider trading, something that rarely happens as insider trading is often very hard to prove. He developed a range of illnesses in Christopher Skase style that provided doctor's certificates to keep delaying his detention, which was only periodic weekend detention anyway. He was also asked to explain how he managed to get an insurance payout of $53 million for Offset Alpine Printers that burned down Christmas Eve 1993, only a year after he bought it for only $15 million.
Rupert Murdoch
The biggest media mogul in the world today, born in Australian on March 11th, 1931, in Melbourne, and educated in Geelong. Now a U.S. citizen but many regard him as an Australian, he owns Fox Television and three quarters of the Australian news papers and has interests in many forms of communications and owned a large part of Ansett before this collapsed, his personal fortune is estimated at $US7 billion. His empire started with the Adelaide News that he inherited and his global media show now spans every continent, reaching some 2 billion persons.
Russell Crowe
Aussie movie actor, after starting small with the Aussie movie Romperstomper made it pretty big with movies like Gladiator, Cinderella man etc. . Hit the headlines in 2005 with a phone incident in the US
Simon Morley
See David Friend
Steve Irwin
Steve Irwin is no longer with us after a lifetime career of do-not-try-this-at-home stunts with dangerous animals came to an abrupt halt when a stingray whacked a 20cm. barb into his heart while he was snorkelling at Batt Reef off the coast of Port Douglas on Monday 4 September 2006, he was 44 years old. He became worldfamous through forever risking his life in front of the camera by confronting huge, dangerous and poisonous animals while pouring out colourful Aussie language at the same time. Many Australians consided him way over the top and an embarrassing ocker but his mad adventures made him a super hero in the U.S. where his TV series and movie made millions and in november 2003 he auditioned mad Americans to join a reality TV show to be filmed at his wildlife park. Over the years he has received numerous bites, one of those was on stage in Alice Springs at a Toyota conference where a two metre long Perenti lizard latched on to his arm. He is also reported to have trade marked the name Crocodile Hunter, as was pointed out in a letter from Steve's lawyer to real crocodile hunter Mick Pitman who claims to have roamed the north for 20 years, much of it with legendary croc hunter "German Jack", and who is outraged his primary job description has been hijacked. He claims he was hunting crocodiles while Irwin was still in nappies and says that Steve is only a 'crocodile photographer'. The hype has gone that far that Steve was even nominated for Australian of the Year, though this is more for his generosity in sharing the proceeds of his crazy crocodile empire with numerous charity organizations.
Despite making it to Queenslander of the year he came under fire early 2004 when he held his baby son Bob a metre from the mouth of a 4 metre crocodile at his Australia Zoo to teach him to become completely familiar with crocodiles.The stunt was slammed by child support groups and compared to the furore caused by whacko Jacko dangling his newborn baby over a German hotel balcony in 2002. After this stunt his chances of becoming Australian of the Year diminished and it was Steve Waugh that snatched that title away from him. This stunt caused the Queensland workplace health and safety division to re-draft crocodile handling guidelines which included a ban on children entering crocodile enclosures.
On 5 January 2008 a crowd of 4500 people paid $90.- each to get in to a show at the Australia Zoo where controversial American psychic John Edward was supposed to make contact with the deceased Steve Irwin. You guessed it, nothing happened....
The American cartoon show South Park has devoted a whole show to John Edward in which he wins the award of Biggest Douche In The Universe, beating several douche contestants from other galaxies.

The Irwin's family spokesman John Stainton announced in 2007 that 15 November had been declared Steve Irwin Day, the Irwin family was hoping that everyone would take a day off work, and they hoped that it would even become a national public holiday, also people were encouraged to wear khaki to work.
The Queensland Premier Peter Beattie said there were no plans to make November 15 a public holiday, and he doubted Steve himself would have wanted that much fuss. A few people saw it as just another ploy to get more crowds to come to the Australia Zoo festivities and spend money....
Todd Russell
Together with his mate and colleague Brant Webb he got stuck a kilometre underground in a gold mine under Beaconsfield after an earth tremor collapsed the area where they were working. It took rescue crews two weeks to get them out, by this time they had become international celebrities as the media followed the whole rescue mission. As soon as they were out they made $2 million with an interview on Channel 9 and that is only the beginning.
Vic Hislop
Famous Australian shark hunter, though not as internationally famous and crazy as the late crocodile hunter above. He has spent thirty years studying man eating sharks and is a world authority on sharks. He has a display in Hervery Bay, Queensland, where some of the monsters he caught are still in a freezer on display. See it at; Vic Hislop's Shark Show, 553 The Esplanade, Urangan, Ph: (07) 41289137
Yahoo Serious
Made some entertaining movies like 'Young Einstein" and "Reckless Kelly', also announced once that he would sue Yahoo.com for mega millions for stealing his name but did not pursue this any further. Then quietly disappeared from the media headlines.
Know of any other amazing Australians? Then tell us!